Hamad International Airport passenger terminal showcases a fascinating selection of art, curated in partnership with Qatar Museums.
The artworks displayed at Hamad International Airport are a mix of acquired pieces and others created especially for their spaces. It include works by local artists – for example, Qatari artist Faraj Duham was commissioned to create large-scale murals, whilst artist Ali Hassan produced a desert horse sculpture. Other local artists include Mohamed Aljaida, Mubarak al-Malik, Amal Alatham, and Yousif Ahmed.
More pieces will be installed over time, from international artists including Adel Abdessemed, Dia Azzawi, Ahmed al-Bahrani, Maurizio Cattelan, Don Gummer, Keith Haring, Damien Hirst, Jenny Holzer, Tom Otterness, Anselm Reyle and Bill Viola.
Lets Learn more about these Artworks in detail & Artist behind them.
"Arctic Nurseries of El Dorado" by British artist Marc Quinn

Marc Quinn's mesmerising artwork "The Nurseries of El Dorado" is a representation of an almost mythical world, comprising of a number of bronze sculptures.
In this enlarged bronze sculpture, a flower hybrid is created using elements taken from different plants. British artist Quinn assumed a distinct interest in flowers as a subject since 2000. Forms of orchids are repeatedly collaged together in his largescale work, which link back to the artist's interest in DNA and genetic manipulation.
Although the work is cast in heavy bronze, it is coated with a white pigment, that manages to cultivate an ethereal quality and produces a delicate and fresh effect – comparable to the look of porcelain. The flower is also representational of the nature of culture and economic affairs. It's a representation of globalization and the potential to fly flowers in from all over the world in a day.
The piece is located at the departures hall, just before passport control. 
"Untitled" by Italian artist Rudolf Stingel

Rudolf Stingel's work reflects on the passage of time. The artist often invites audiences to interact with his work, extending the artistic process and allowing his artwork to develop as 'collaborations'. Since the 1980s, Stingel has been interrogating the medium by seeking audience participation in his projects using unlikely materials to question notions of authenticity and hierarchy. Casting and plating graffiti covered insulation panels has become one of Stingel's acclaimed styles since early 2007.
His artwork at HIA is a sample of one of his famous large-scale interactive pieces. Stingel covered three surfaces with reflective, aluminium-faced insulation panels, before inviting members of the construction team at HIA to draw on the soft walls at the time of the airport's construction. The walls were then cast in copper and electroplated with gold, before a number of pieces were selected for permanent display at HIA.
The piece is located in the Arrivals Meet and Greet Hall, towards the bus terminal in the West.
8 Oryxes by Dutch artist Tom Claassen
Dutch artist Tom Claassen has produced a series of sculptures of the Oryx, an antelope native to the Arabian Peninsula, which appear as a herd in the arrivals hall of the airport. Tom Claassen's work is emphatically versatile, in terms of subject, technique, and choice of material, but always recognisable. All of his sculptures embody a paradoxical tension between the light tone in which he approaches his subject matter and the rounded, way they are shaped. It is located in the Arrivals Meet and Greet Hall, towards the taxi pavilion in the East.  
"Untitled Lamp Bear" by Swiss artist Urs Fischer

Lamp Bear by Swiss artist Urs Fischer takes centre stage in the grand foyer leading to HIA's world-class duty-free hall. It is a 23-foot canary yellow teddy bear sculpted from bronze, that sits peacefully inside a lamp. It's a playful piece that humanises the space around it and reminds travellers of childhood or precious objects from home.
In Lamp Bear, Swiss artist Urs Fischer combines memory with scale, creating simultaneously a monument and a vision. Scale defines our experience with art and particularly with sculpture. Scale doesn't necessarily mean smaller or bigger. It means placing the viewer in a different relation to the reality he or she is familiar with. Memory is not just the past but a way to reimagine our lives.
Lamp Bear welcomes guests at Doha's airport and celebrates the idea of travel, just as the artist celebrates travelling back in time to the symbols of childhood – a place we have all been to and where, once in a while, we like to go back.
The yellow bear and its lamp are both playful and impressive: The coming of age of a simple toy into a full grown artwork.
The iconic piece is located at the South Node of the terminal, just after departures security and passport control.
Mappemondes by artist Adel Abdessamed

In this artwork named Mappemondes, artist Adel Abdessamed creates a world map using old tin cans collected from market places and streets in Dakar. Through this piece, Abdessamed tries to highlight the consequences of the 'throwaway culture' of the modern world. Abdessamed creates artworks which juxtapose situations or actions carried out on everyday objects. It is located in Concourse A, near gate A7.
 "The Playground & Other Worlds" by American Sculptor Tom Otterness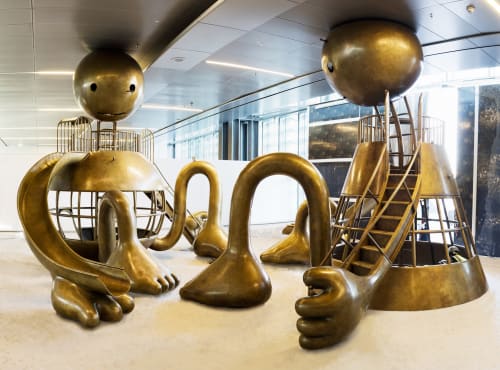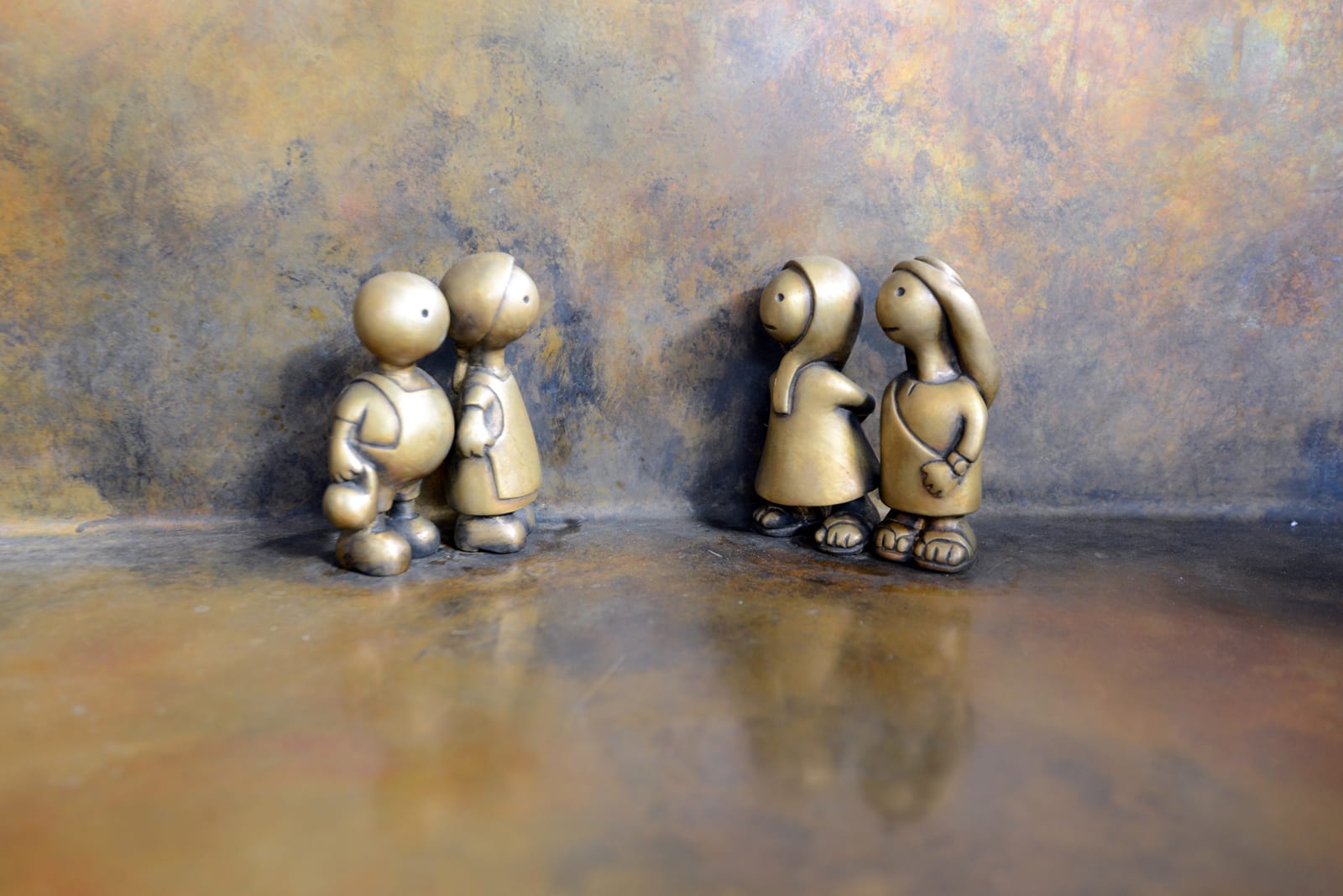 A series of eight interactive bronze sculptures are spread throughout the activity nodes in concourse C at Hamad International Airport, near gates C2, C3 and C8. For the installation, Tom Otterness worked closely with Polich Tallix Fine Art Foundry in Rock Tavern, New York to cast this series of large-scale bronze figures that appear to be in play with one another. With slides and seats for limbs and play-pen-like chambers for torsos, these figures invite visitors at the airport – both children and adults – to engage, interact and find recreational enjoyment in the sculptures. Tom Otterness is widely known for his public installations both in the United States and abroad.
Qatari artist Ali Hassan's "Desert Horse"

Acclaimed Qatari artist Ali Hassan's "Desert Horse" captures the spirit of the travel and the flow of movement, just as the Bedouins used horses for travel in the past. Hassan's artistic technique approaches calligraphy by combining classical techniques with abstraction and a contemporary interpretation that is translated into sculpture. The artwork is an interpretation of the iconic desert horse and represents different forms of the Arabic letter "ن" ("n").  It is located outside the arrivals meet and greet hall, gate number 3.
"Flying Man" by Iraqi artist Dia al-Azzawi

The Flying Man, which is two iconic sculptures designed by renowned Iraqi artist Dia al-Azzawi and has been installed in Hamad International Airport's passenger terminal for passengers to enjoy while flying in and out of the airport. The sculptures are based on the story of Abu Firnas, a historical figure from the Islamic world who was an early pioneer in experimenting with flight. Through these sculptures, al-Azzawi aims to create a monument to celebrate travelling in the modern age. The two tall cylinder sculptures are inspired by the pillars that appeared in Mesopotamia, an ancient region, in the third century B.C.
The two sculptures are located in the Arrivals Meet and Greet Hall, on the East and West ends. 
"A message of peace to the world" by Iraqi artist Ahmed Al Bahrani
Designed by Iraqi artist Ahmed Al Bahrani, 'A message of peace to the world', is located at the Passenger Train's South Node station. Through this unique piece of art, Al Bahrani, living in Doha since 1999, wanted to honour the work of Reach out to Asia (ROTA), a non-profit organization based in Qatar that supports primary and secondary education in underprivileged countries throughout Asia. To recognise ROTA's efforts and achievements, Al Bahrani has created a sculpture in the shape of a cube that symbolises ROTA's logo. The logo represents a formula designed to highlight how investment in economic security and education equates to the well-being of children. Al Bahrani has incorporated the logo into a cube shaped sculpture, such that its surfaces represent the iconographic elements that stand for ROTA's mission, with the sun, symbolising hope and happiness, radiating from the top of the cube.
Small Lies by KAWS


KAWS is the fourth American artist joining HIA's Art Programme. Most recently installed at the Yorkshire Sculpture Park in the UK, the newly inaugurated SMALL LIE is now located in the North node of HIA, near Concourse E, a strategic location for the benefit of the 30 million passengers transiting through HIA on a yearly basis. Reminiscent of a wooden marionette, the sculpture is made from Afrormosia wood, weighing in at 15 tonnes and standing 32 feet tall.
The inspiration behind SMALL LIE comes from the  artist's relationship to wooden toys growing up and the warm sensation of wood grain. Expanding on this, he created an oversized sculpture that plays with an emotional tension of strength and kindness. SMALL LIE makes the viewer feel small but also want to protect it and console it. It is the first time that one of KAWS' pieces is exhibited in an airport. The space allows a dialogue with both travelers and the other artworks showcased at HIA. It is a perfect space for SMALL LIE.
Cosmos by Internationally acclaimed French Artist Jean-Michel Othoniel

Cosmos', launched earlier this month by QM. In 'Cosmos', Othoniel draws inspiration from an artefact located in the collection at the Museum of Islamic Art in Qatar, the oldest surviving Islamic astrolabe in the world. Othoniel created a large and intricate globe installation that symbolizes the path of travellers around the world, using gold to gild the steel structure and emulate warmth and sunlight. When viewed from the side or below, the artwork appears as bright and beautifully-detailed calligraphy drawn in space. 'Cosmos' has found a home in HIA's North Node, near concourses D and E.
 So next time when you are visiting Hamad International Airport try to look for different artworks & history behind it.Keep Visiting us for more interesting blogs.