Argan offers real, authentic Moroccan cuisine setting new standards in fine dining with its wholesome culinary experience; it is a preferred venue for all those who appreciate true Moroccan delicacies.
Traditional Moroccan dishes presented in a contemporary style. Situated in Al Jasra Boutique Hotel in Souq Waqif, Argan is an alluring restaurant set to tease the senses through the amazing blend of spices, flavours, colours and music. A rich décor and dining experience is guaranteed.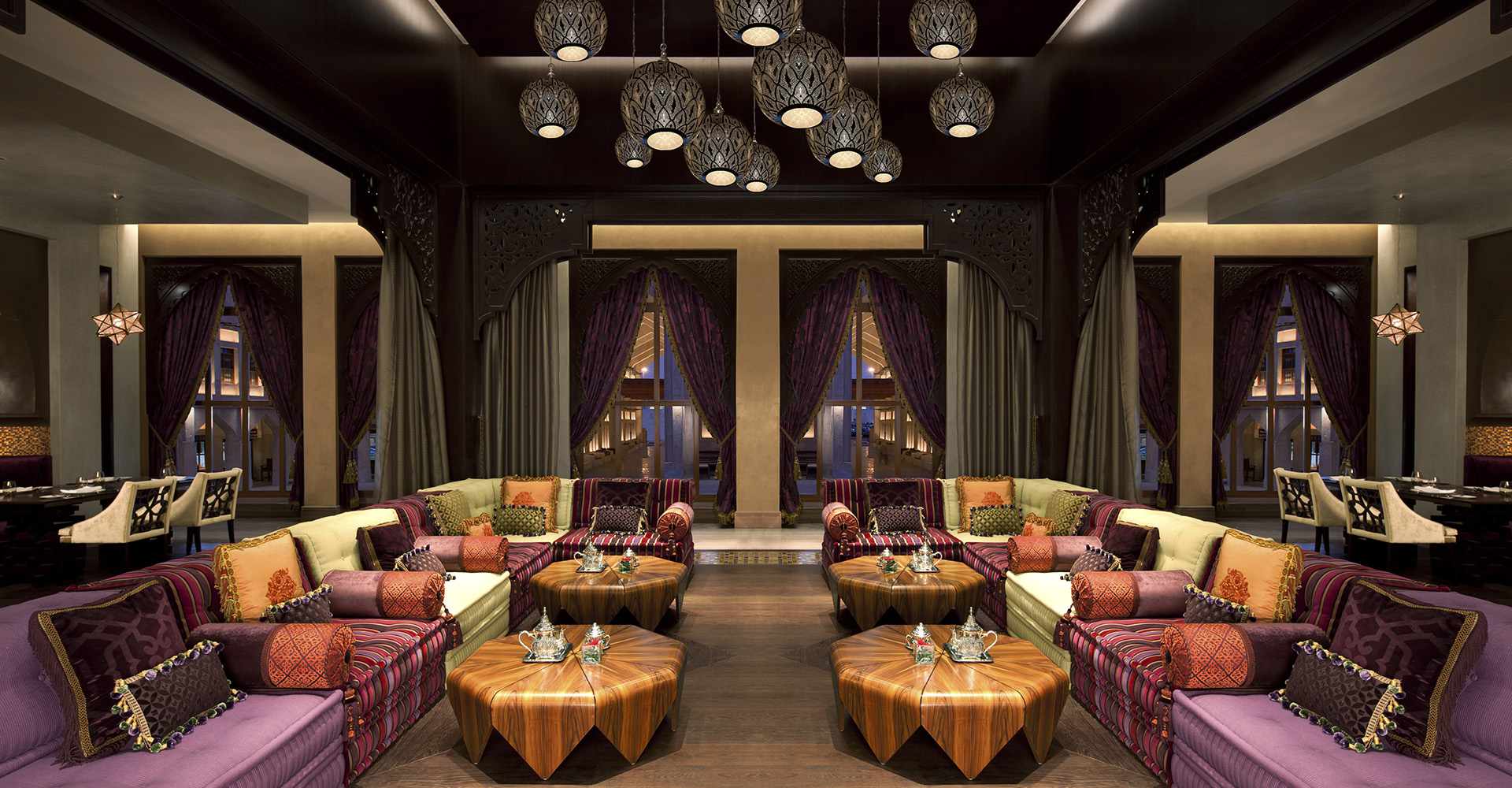 The restaurant presents a traditional Moroccan setting, stylishly uplifted by modern elements and chic, vibrant colors. Tables and booths surround a purpose-built majlis-style seating area in the middle where you can lounge around on comfy couches with bites, drinks and shisha on its terrace area. The booths, that line the wall on one side, have mosaic detailing and from the ceiling hang star-shaped lanterns. Enjoy freshly baked Moroccan bread and authentic Moroccan mint tea, choose from wide variety of Tajines and sweets offered at this exclusive Moroccan Restaurant in Doha.
As soon as you step in the restaurant you can really feel the vibes of Morocco.The place is beautifully decorated with lanterns,Colourful Sofa & Couches.The soothing Arabic music in the background makes the place perfect for fine dinning.
We went there for dinner & ordered Moroccan Selection Salad.The Moroccan Selection salad is combination of six different salad which gives your taste-bud ultimate Moroccan flavor. The Inhouse Moroccan breads are given as complimentary along with salad.The Breads were extremely soft & one of the best in town.In Main course, we opted for Tagine Samak (Marinated Fresh Hamour with seasonal vegetable & lemon pickle) & Vegetable Couscous (Traditional Moroccan Semolina with butter ghee served with boiled vegetables).Both the meal were above the expectation.
Lastly we finished our meal with classic Moroccan Tea with sweets.The official description of this restaurant says that is 'an alluring restaurant set to tease the senses through the amazing blend of spices' and for us, they delivered with this.
One of the best part of the restaurant is their hospitality.Ever Smiling,Friendly staff who are always there to give you best of Moroccan cuisine.
Overall, Argan is a great place to go with friends, family or colleagues who want an authentic Moroccan experience.
If you are visiting Souq Waqif then please do visit the restaurant located in Al Jasra Boutique Hotel.
COVID-19 Precautionery
Prior Reservation is Needed
Etheraz App should be there in mobile & it should be green
Mask is Compulsory
Temperature is checked on the main entrance
Children are not allowed due to Covid-19
No Shisha is served due to Covid-19
Argan Moroccan Cuisine
🕧 12:30 pm to 11:30 pm
🗓 Tuesday to Sunday
📍 Al Jasra Boutique Hotel -Souq Waqif
📲 7047 3687 for reservation
👇 Moroccan Menu – mhg.to/sbspp
Email: fb.reservations.tswq@tivolihotels.com
Follow them on 
Facebook – Argan Moroccan Restaurant
Instagram – Argan Moroccan Resataurant
 Please Visit & Share your Experience with us in comment box