You'll find a wealth of exclusive shopping malls offering high-end fashion and luxury brands. But, when it comes to finding an authentic gift or souvenir, it's the vibrant souqs (traditional markets) that you should visit.
The best place for a souvenir shopping spree in Doha is at the Souq Waqif – the largest and oldest market in Qatar. Packed within the winding alleys, you'll find everything from traditional handicrafts to textiles, spices and perfume. To help you with your decision-making, here's a compilation of the most interesting Qatari souvenirs to take home.  And remember, don't be too shy to haggle. It's part of the local shopping culture and is actually encouraged.
Al-Sadu Weavings
Decorate your home with ancient fabrics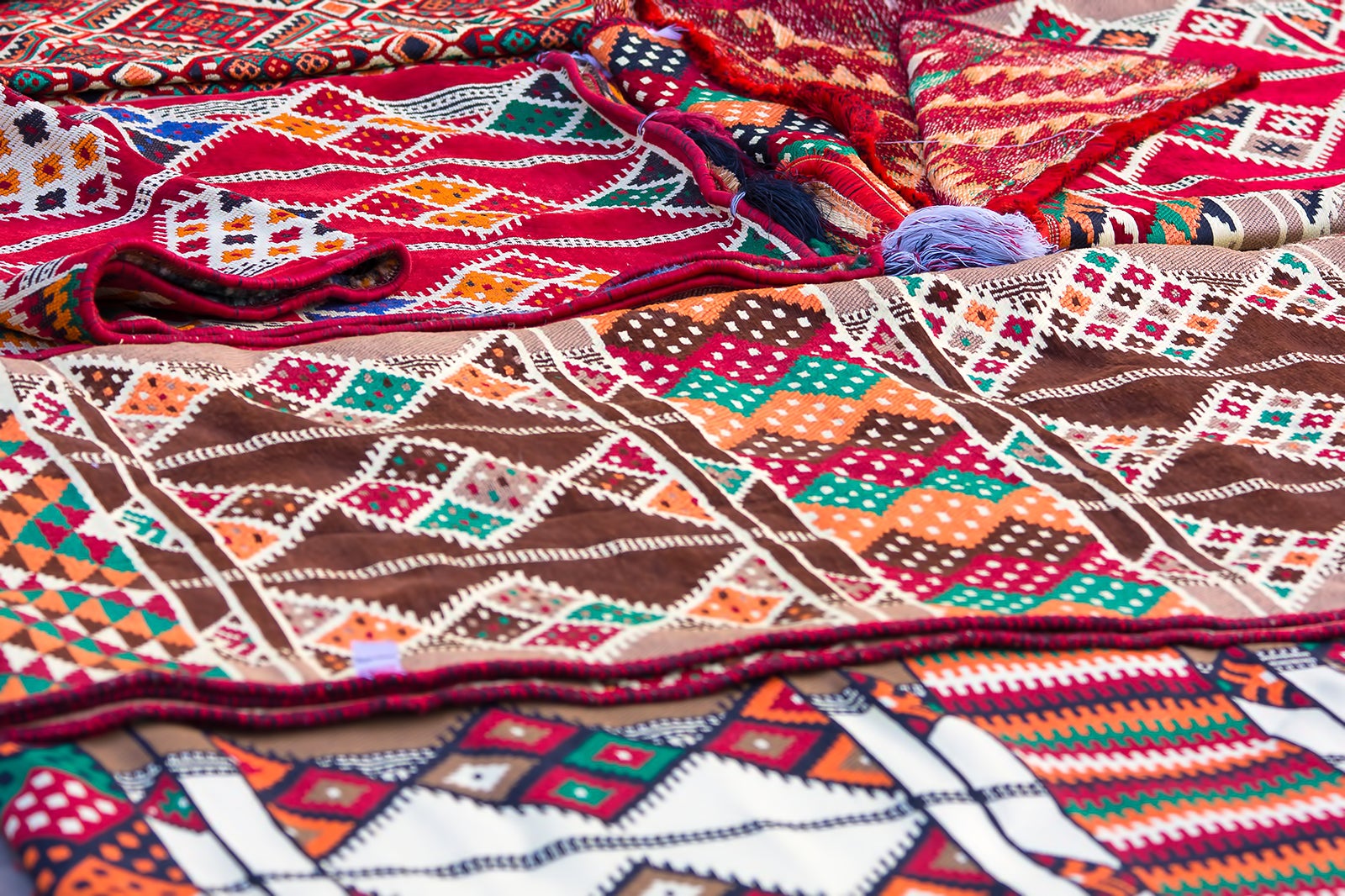 Al-Sadu is a handwoven material made from camel and goat hair and is one of the most traditional souvenirs you can buy in Qatar. The weaving technique belongs to the nomadic Bedouin tribe who have practised it for thousands of years to create tents, carpets, blankets and cushions.
The textiles are traditionally black, white, brown, beige and red, with distinctive geometric designs and motifs which symbolise the tribe's rich cultural heritage and desert environment. You can see local women weaving at Souq Waqif. Head to the Corniche end of the souq where you'll find an entire shop selling different kinds of Al-Sadu textiles.
Dallah Coffee Pots
A symbol of Arabic hospitality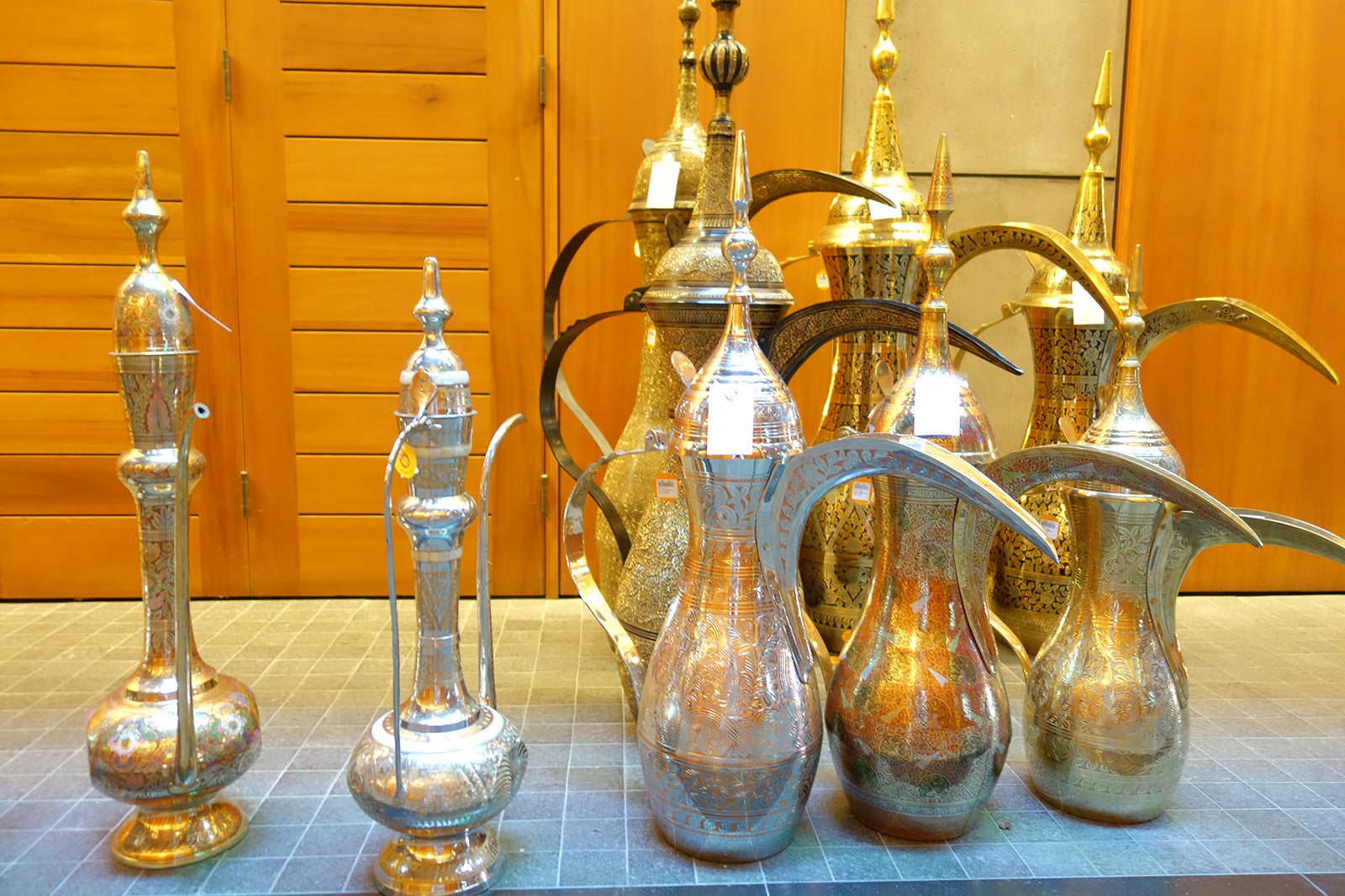 Nothing represents Arabic hospitality more than a dallah, the traditional Arabic coffee pot made from brass or silver. The coffee pot has been used for centuries to brew and serve qahwa – strong and spicy Arabic coffee made with cardamom – during the Qatari coffee tradition when welcoming guests. The bitter coffee is drunk out of matching mini metal cups called finjaan.
More than functional, dallah are exquisitely decorated with geometric engravings and even gemstones. So whether or not you're a coffee drinker, the authentic coffee pot is a striking decorative ornament for your home that can also spice up your teatime routine. You can find them at the Souq Waqif, and in most hotel gift shops and souvenir stores at malls such as City Centre and the Royal Plaza.
Photo courtesy of Abdulla Al Muhairi ( CC BY 2.0 )
Pashminas, shawls and scarves
Drape yourself in silky-soft textiles available in all the colours of the rainbow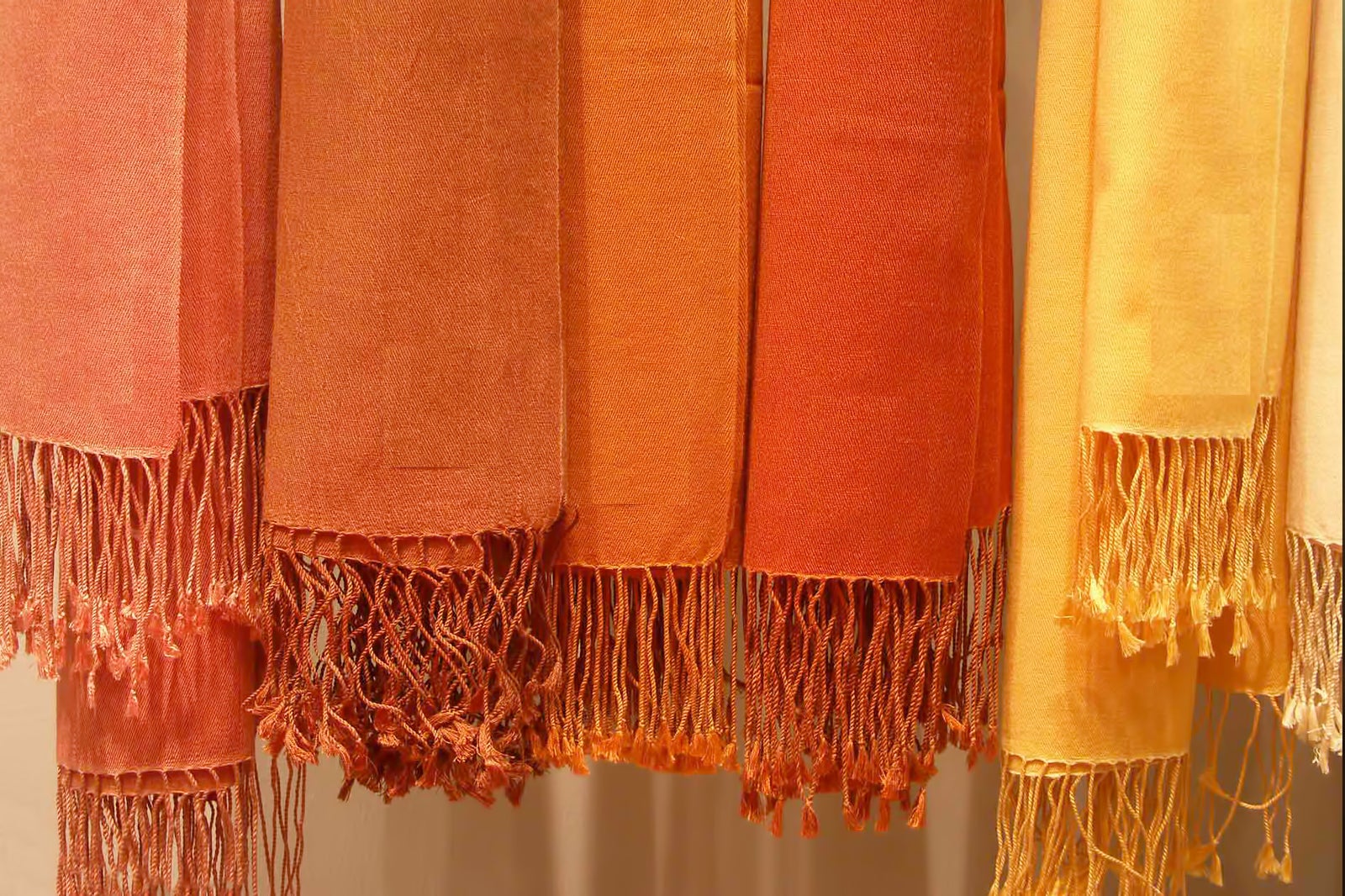 We often buy souvenirs that are nice to look at but aren't practical for everyday use. Shawls and scarves, however, are the exception. Woven from fine cashmere wool, these warm yet delicate garments are extremely handy when you're travelling or camping, as a beach cover-up, or if you want to spruce up your outfit for a fancy dinner.
Pashminas in Qatar are inexpensive to buy compared to other destinations and come in a wide selection of colours, patterns and qualities. And since they can fold up small and are light to carry, why not buy several and give them as gifts? The only tricky thing will be deciding which colours to buy. In Doha, the Bombay Silk Centre on Al Khaleej Street and the Oriental Carpet Company in Bin Mehmood are local favourites to purchase good quality pashminas. You'll find less expensive ones at Souq Waqif.
Fill your suitcase with scrumptious candies, dates, nuts and honey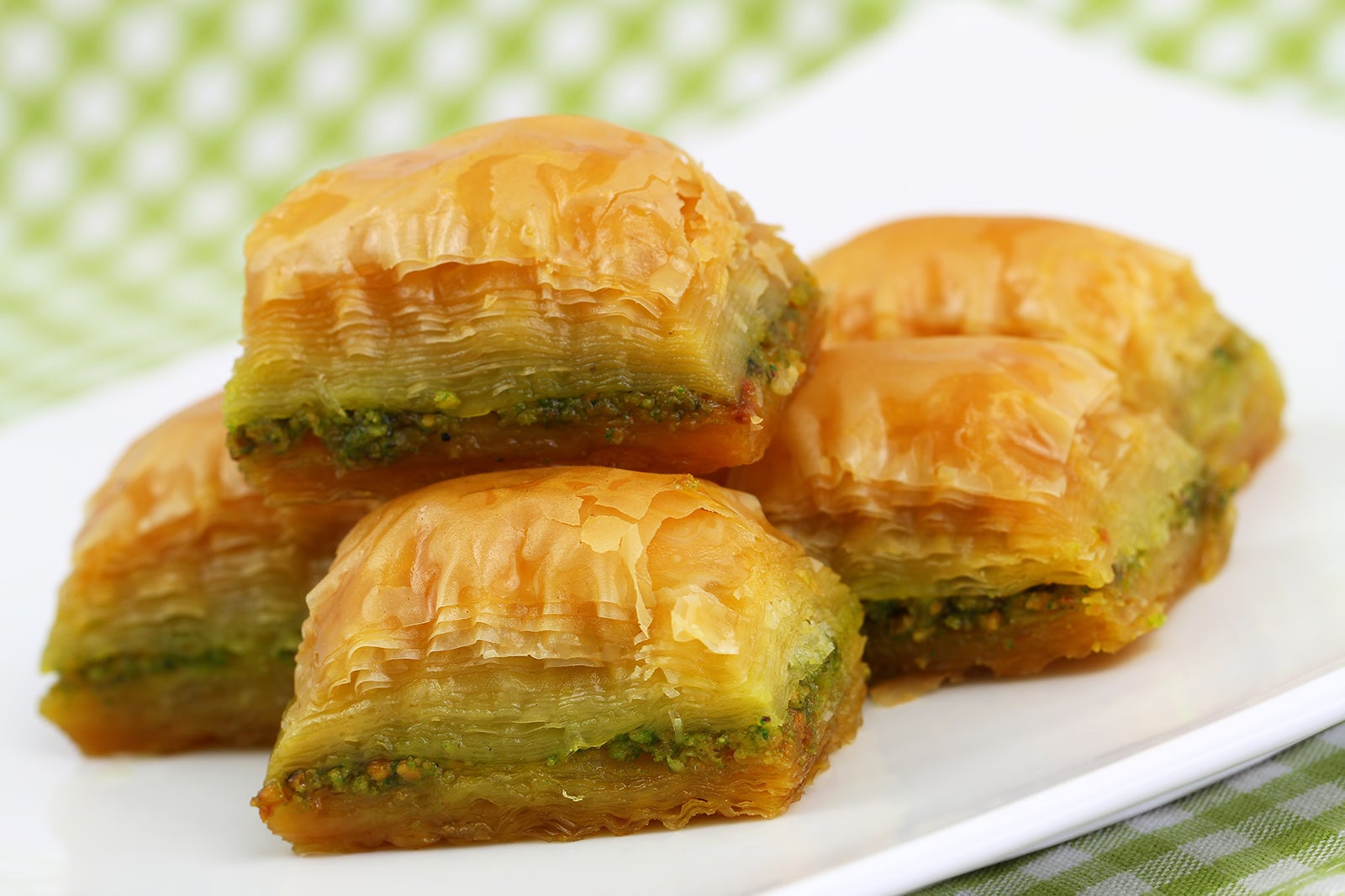 Qatar is known for its wide range of high-quality Arabic sweets. In souqs, shopping malls and cafes, you can sample a variety of traditional desserts and candies unique to Qatar and the Middle East. Think rose-flavoured candies made with grape molasses and stuffed with pistachios, sweet dumplings garnished with sesame seeds and the ever-popular baklava.
You'll also find natural honey, locally grown dates and all sorts of nuts. Dates come in different colours, sizes and sweetness and are of particular cultural importance in Qatar as they break the fast during Ramadan. Super sweet-tooth shoppers can indulge their addiction and buy chocolate-covered dates, pistachio and nut-filled dates or dates rolled with coconut or Arabic coffee. Try Al Aker Sweets on Salwa Road in Doha. For unusual date options sold by the box, head to Fal Elkhair Dried Dates Shop at Souq Waqif.
Take the scent of Qatar home with you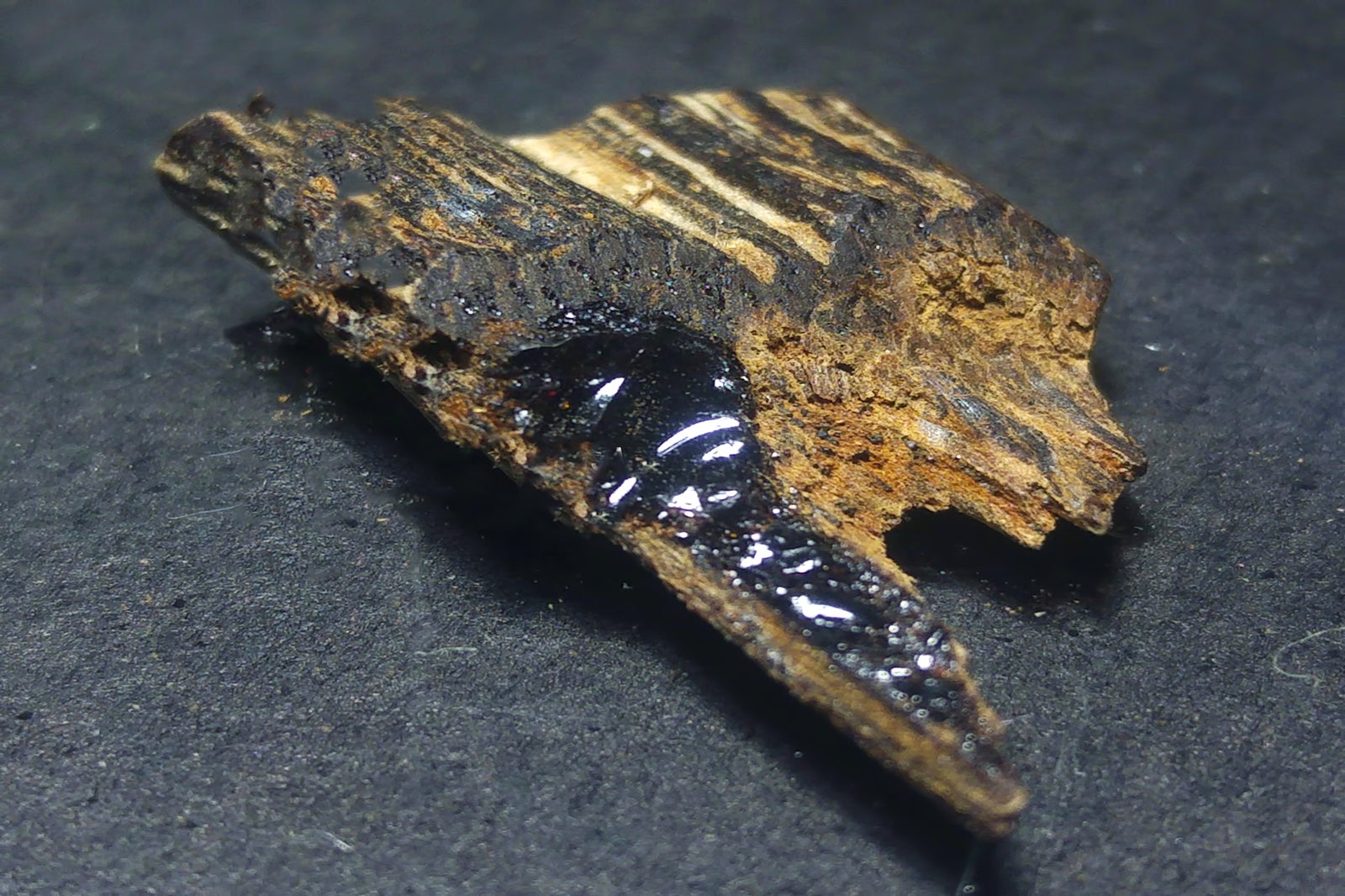 Oud is the traditional fragrance of Qatar. You'll smell the beautiful, burning scent wherever you go, from homes and cars to souqs, hotels and shopping malls. Made from the resinous heartwood extracted from the rare agarwood tree, oud is known as the "Wood of the Gods".
Although you can buy oud in a variety of forms, mainly as wooden chips for burning and body oil, buying a bottle of oud-based perfume is highly recommended. If only for the experience of allowing scent-filled flasks of luxurious Arabic perfume engulf your senses as you sample each one. Ajmal Perfumes at Souq Waqif sells locally made fragrances. You'll also find perfume shops in all the country's shopping malls, like City Centre, Hyatt Plaza and the Royal Plaza.
Image courtesy of Agarwood For Life ™ ( CC BY 2.0 )
Pendant with your name in Arabic
An easy Qatari keepsake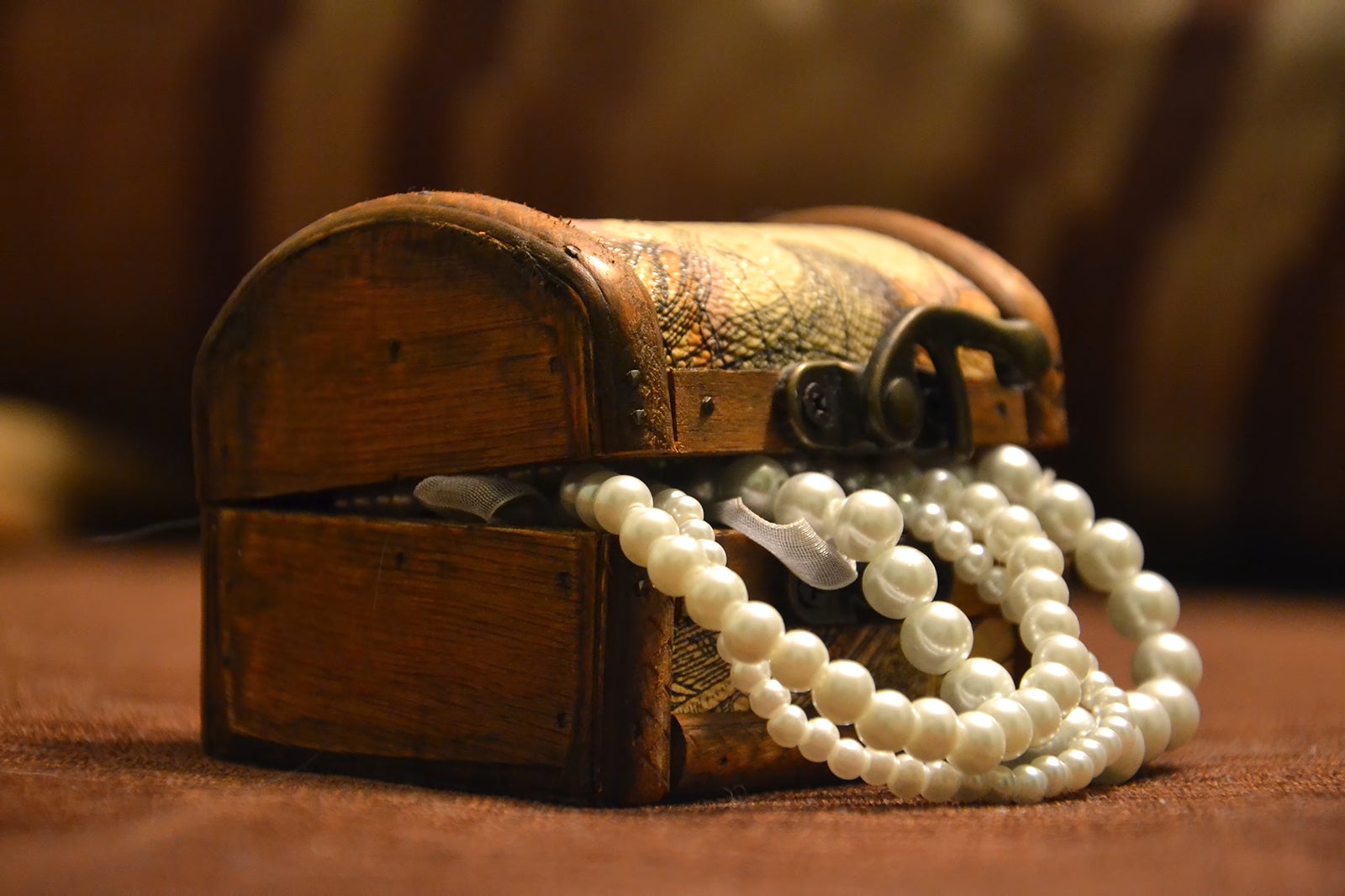 A personalised pendant with your name written in Arabic can be a wonderful keepsake of your visit to Qatar. Many jewellers throughout Doha make these, and you can get them inexpensively done in silver or gold. Additionally, Qatar is the pearl capital of the world. You can also find jewellery made of amber, white gold, silver and platinum pieces, with or without semi-precious stones.
If you have something very specific in mind, most jewellers are happy to create your design. Try the Gold Souq, next to Souq Waqif (all gold jewellery sold here has a government stamp to prove its purity). For pearls, head to the Pearl Man shop, located in Al Bida Park in Rumailah, across the Corniche.
Incense and traditional incense burners
Freshen up your home with sweet-smelling Qatari incense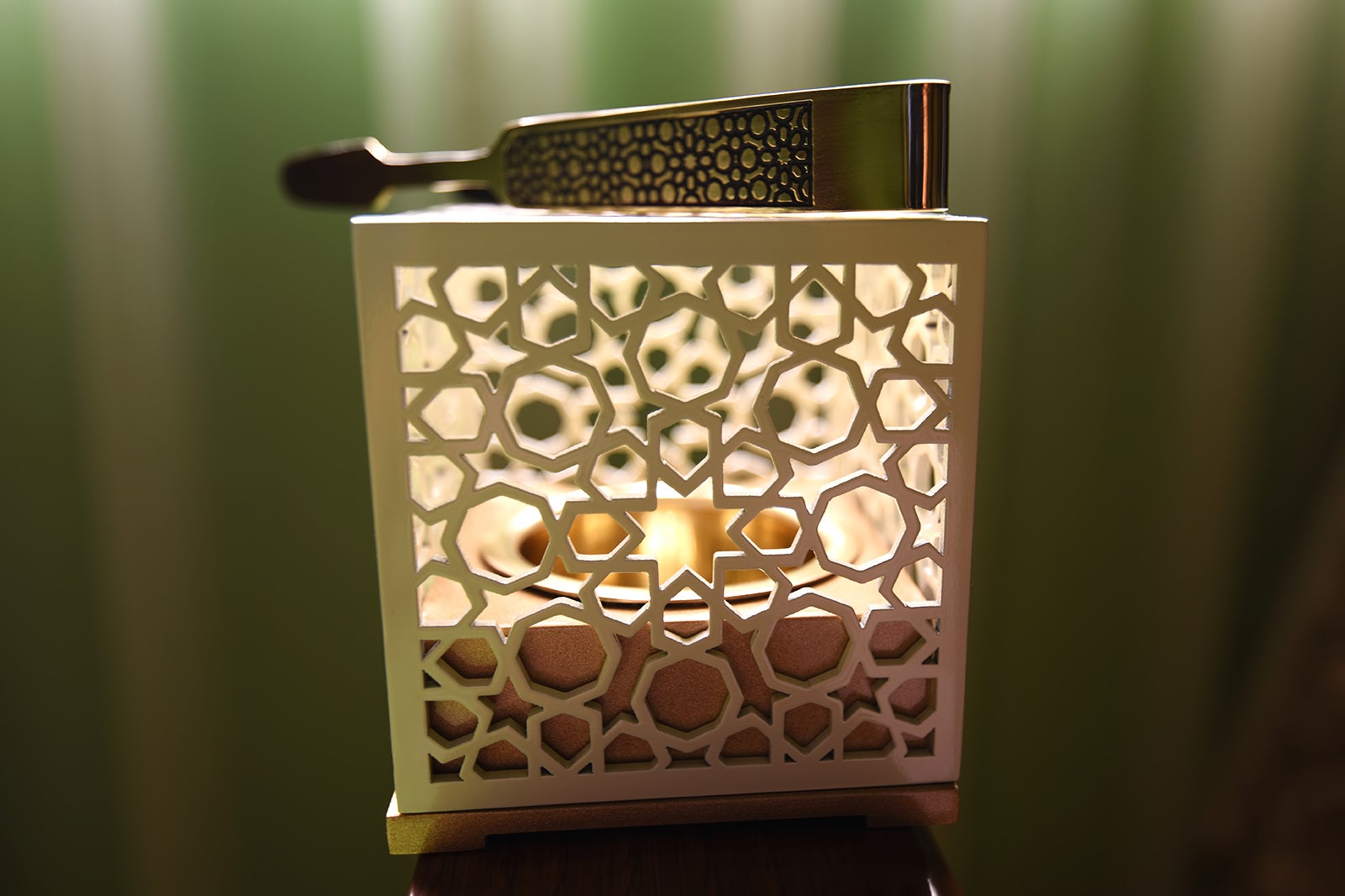 Apart from buying local perfumes, you can buy a variety of different incense as well as decorated traditional incense burners in Qatar. There are many different scents to choose from, so spend time to find your favourite one.
The rich, calming fragrance of frankincense is a popular option. But shoppers can also pick up bakhoor, an exotic, sweet-smelling fibrous ball of oud (agarwood) mixed with oils like ambergris, sandalwood, powdered flowers, oats and white musk. Even if you aren't a fan of burning incense, the burner itself is a lovely souvenir to keep in your home. Souq Waqif and Omani Souq behind the Central Market are great places to find them.
Photo courtesy of Mishma Abraham ( CC BY 2.0 )
Adorn your home with an authentic Qatari water pipe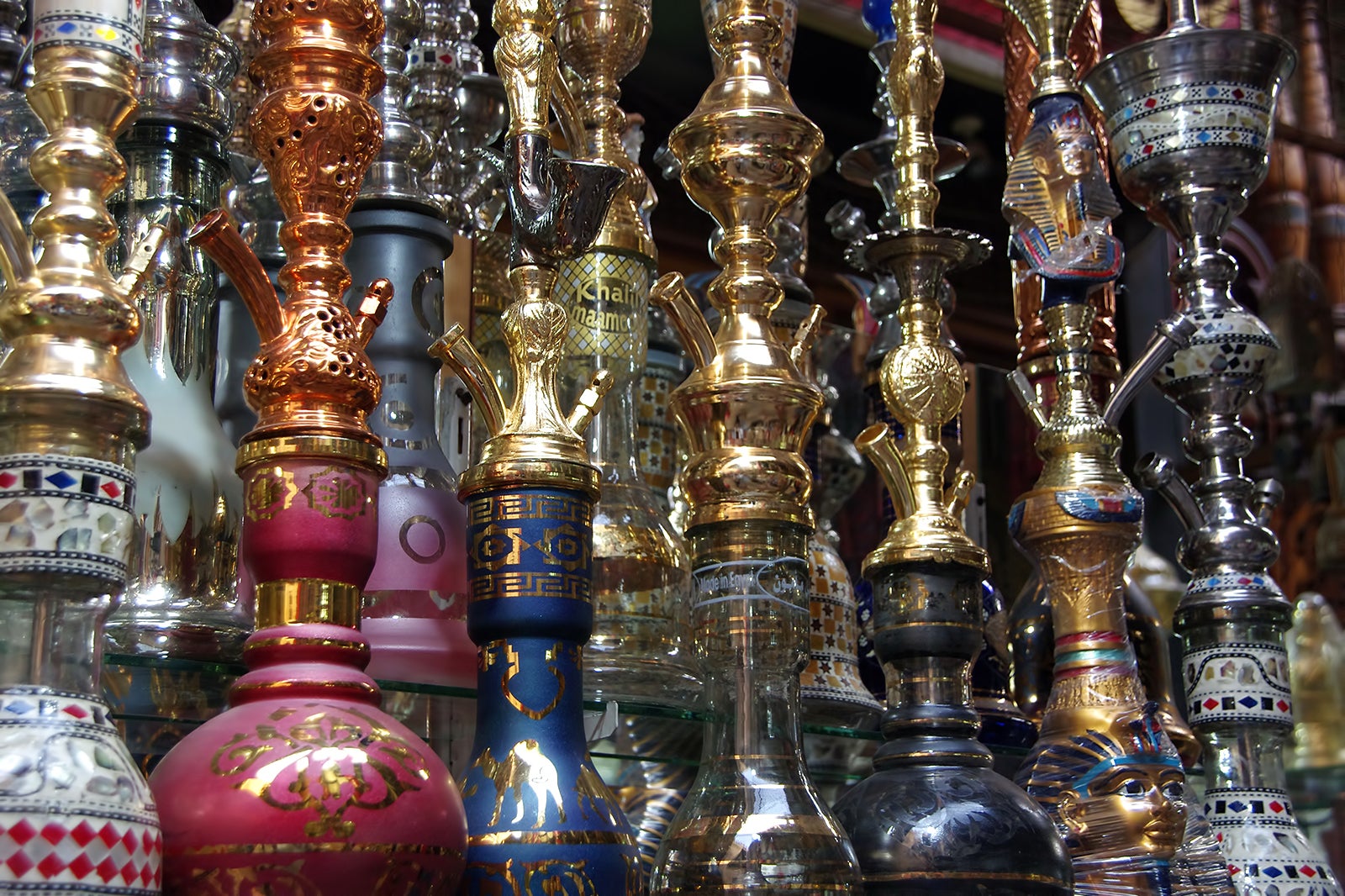 Tall, delicate and eye-catching, a decorated shisha pipe adds personality to any hallway or living room. Plus, it's a great conversation starter. Shisha smoking is an iconic Middle Eastern pastime and is strongly tied to local Qatari culture. The pipes are called hookah and are ubiquitous in homes, restaurants, parties and at dedicated shisha lounges.
You can buy different kinds of shisha pipes all over Qatar – from miniature ones ideal for decoration to big ones that you can use. Smoker or not, an adorned shisha makes for an authentic and colourful Qatari memento – you can even have one personalised for yourself or a loved one. Souq Waqif has a huge selection on display. Most stores offering foods and perfumes usually also sell shisha.
A pretty, useful and traditional catchall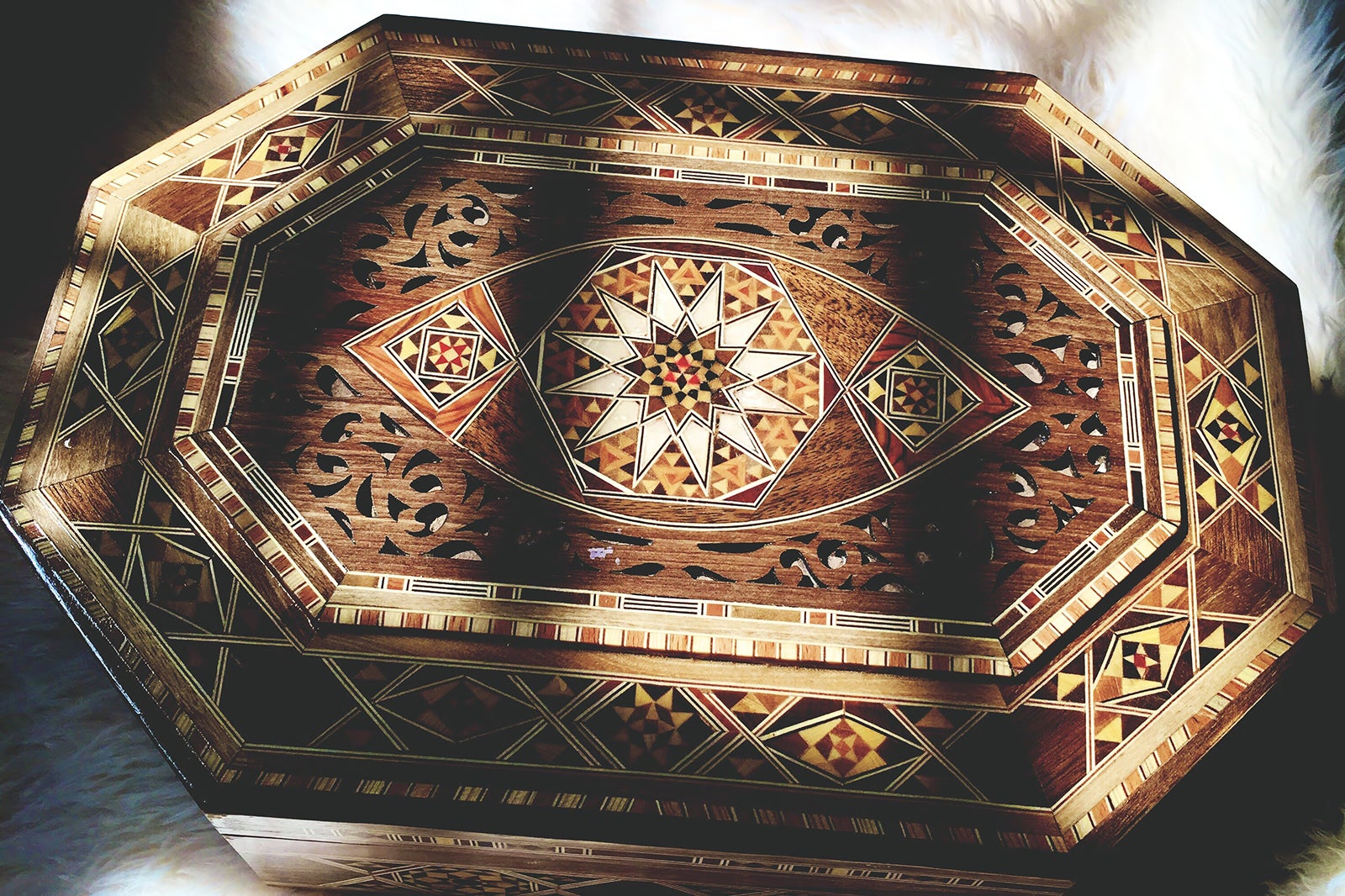 An ornamental Arabic box is a fabulous souvenir to buy when visiting Qatar. Not only can you easily pack the boxes into your suitcase, but they are also very handy to have around the house to store jewellery and other small trinkets. They make the perfect gift.
The beautifully handcrafted boxes are made of wood and available in different shapes and sizes. Traditionally, they are adorned with intricate patterns, making them extra special. For something more exotic, you can find boxes made of brass and even camel bone boxes inlaid with metal or pearls. You can find them at Souq Waqif, Oriental Carpet Company on Suhaim Bin Hamad Street, and in shopping malls like City-Center Doha and Royal Plaza. Last-minute buys can be done at the Qatar Duty-Free at Hamad International Airport.
Illuminate a room with a touch of romance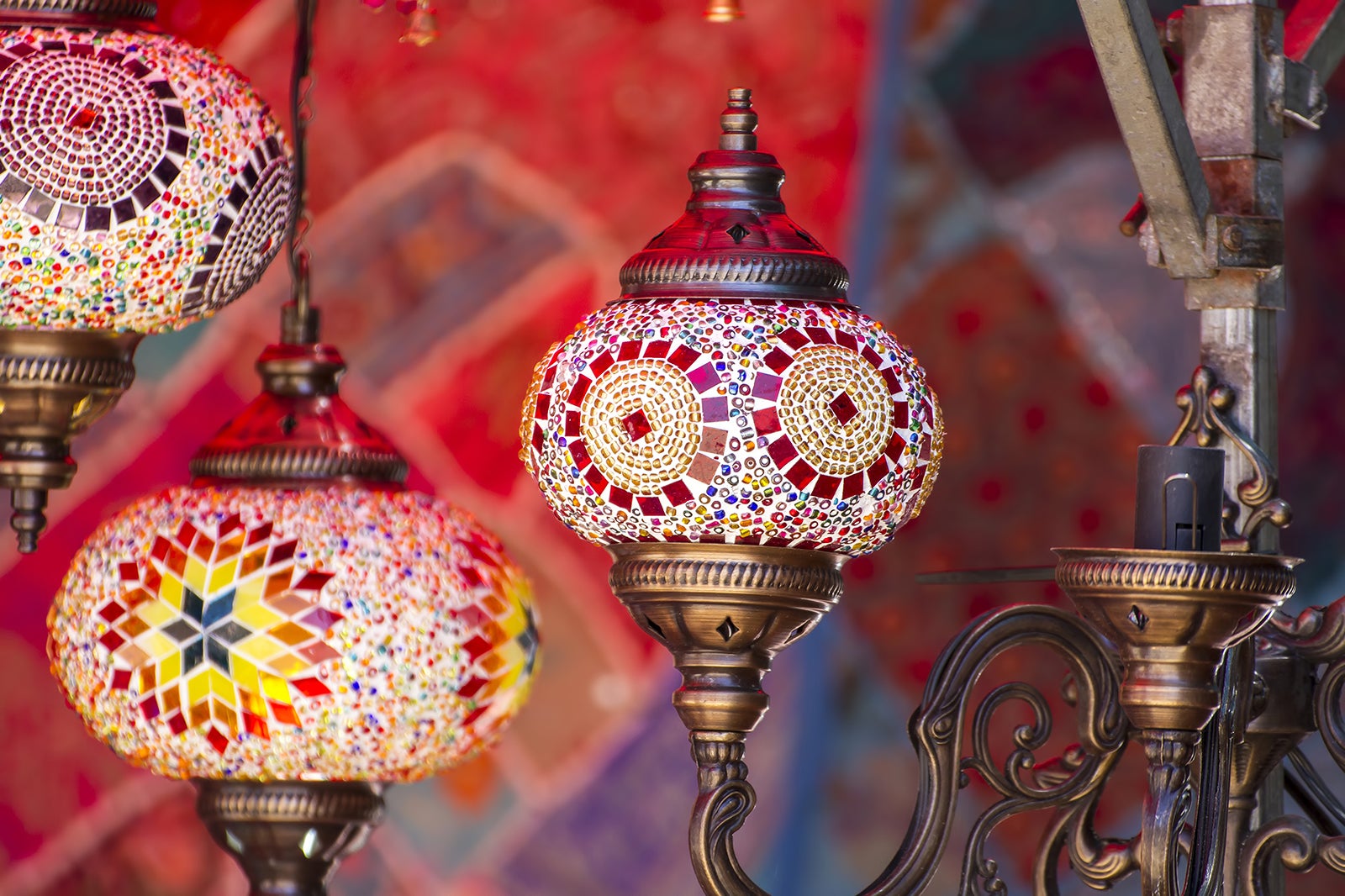 There's no denying that Arabian lamps are incredibly gorgeous and add a dreamy, magical touch to any personal space. There's an immense range of unique designs to choose from – each one boasting brightly coloured glass, exquisite patterns and elegant shapes.
The smaller hanging lamps are more affordable and easier to carry back home. But you may be tempted to buy a pretty swan-neck table lamp with a metal base. Whichever you choose, all the lamps are very delicate so take care when packing. It's best to carry them in your hand luggage. You can find these iconic lamps sold extensively at Souq Waqif.
Abaya
Beautiful Attire for Women showcasing arabic culture
You'll find a plentiful range of Abaya shops in Doha to fit every budget. They range widely in quality, design, and price, starting from QR 100 to thousands of riyals in the designer malls. For better value many abayas can be found in Souq Al Dira, but the quality can be variable.
 Dates
Delicious Fresh Dates grown in Qatar

Dates are a central facet of Middle Eastern culture and they're especially prevalent during Ramadan where given as gifts or eaten at the conclusion of the fasting period. They're a wonderfully rich source of fibre, potassium, iron, and magnesium, among other vitamins and minerals. They can also provide many health benefits, especially with regards to increased energy levels. Fresh, gourmet dates are available from Souq Waqif, where almond and hazelnut bars are a must. Different varieties of dates are also available at Carrefour and Lulu Hypermarket, who always carry many varieties at reasonable prices, and high-end gourmet products from Bateel are available citywide.
Spices
Homemade Spices which is a must buy from Qatar
The beautiful aroma and smell of Qatari cardamom, saffron, chilies, cinnamon, and cumin make a lovely gift for culinary fans among your family and friends. Gift-wrapped, they make a superb souvenir, as when unwrapped the taste and scents are evocative of your time spent in Qatar.
Pearl Jewellery
Qatar is well-known for being the pearl capital of the world 
Qatar is well-known for being the pearl capital of the world, and you can buy superb, beautiful items made from pearls such as earrings and necklaces, that aren't always that expensive. Pieces constructed from gold, amber, and other semi-precious stones are widely available in the jewelry quarter in Doha and in the Gold Souq.