"Understand your worth. Value your life. Appreciate your blessings".
They're sometimes confident, sometimes insecure, and they often need to be reminded that they're worth loving and doing better than they think. You've built a treasure chest of amazing memories through the years, and you recognize them for the gold they are. There you have it, all the reasons you are amazing, every one of you.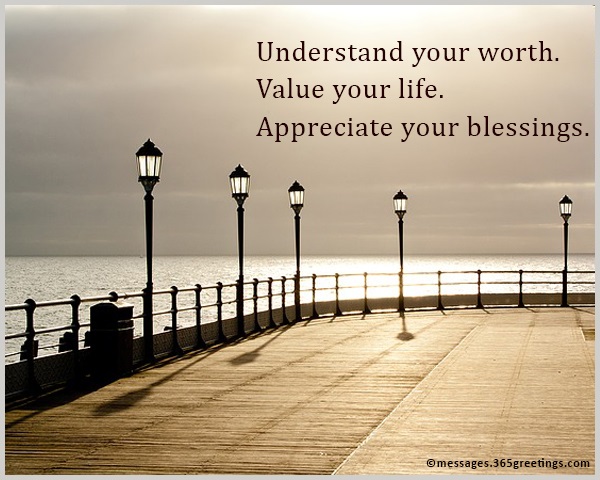 So, if, you're a perfectionist, or you're just hard on yourself sometimes, sit back, relax, and consider all these reasons you're amazing and worth appreciating.
Through my experience and learnings, can state some possible reasons why it touches us, tickles us, and delights us and feel you are worthy and appreciated.
Remember….
You've survived every challenge life has thrown at you, and there have been a lot.
You've acknowledged and worked on weaknesses—maybe not always, and maybe not without some resistance
You've faced a fear at some point. It may have seemed small to you, but any time you do something that scares you, it's huge!
You've apologized. It's not always easy to admit mistakes, but you've done it
You've owned your part, acknowledged pain caused, and vowed to do better going forward.
You've adapted to change, often without having chosen it, and have grown through the experience
You have good intentions and your heart's generally in the right place.
You look out for the people you love. When you say you care, you mean it, and you back it up with actions.
You have unique quirks that make you interesting, endearing, and fun to be around
You're beautifully messy, like all human beings, and your emotions give you empathy, depth, and many other gifts you may not even recognize
You're creative in your own way—everyone is! Maybe you bake or write or make cool things out of recycle pieces or papers.
You've healed and grown through all your ups and downs, becoming stronger and wiser every day
You've started over when it was hard, whether it was a new direction, a new job, a new location, or a new relationship.
You've learned what matters to you throughout the years, and you've tried your best to honor those things.
You've made it to where you are right now. And here you are, strong, kind, uniquely you, and worth celebrating.
So, there you have it, all the reasons you are absolutely amazing, every last one of you.
Your natural state is to be happy, peaceful, joyous, and full of excitement at being alive. In this natural state, you feel wonderful about yourself and your relationships with the people in your life.
No matter where you are today, or what you have done or not done in the past, you need to accept essential truths about you as a person and why you are special and amazing.
Much Love
RK