GUESS!!GUESS!!
Hey guys, a quick post on what are face mists and why to use it?
What is a face mist???
A face mist is a skin care product that we usually spray on our face. There are lots of different types out there in the market, and for the most part they deliver an instant dose of hydration with ingredients like vitamins, extra moisture, and essential oils. Some face mists have additional skin care benefits like controlling excess oil, calming stressed skin, and offering anti-aging properties. As the middle east summers are one of the worst time of the year, with so much exposure to chilled ACs, it really worsens the skin quality and devoid the skin of moisture and imparts a dull look. It is that time of the year, when our skin needs attention and a proper skincare regime needs to be maintained.
Refresh my skin
This one goes without saying—face mist is the fastest-ever skin reviver in terms of moisture restoration. Spritzing your face feels cooling and refreshing on a hot day, or anytime of the day.
Instantly Hydrate
To choose a face mist is a key aspect as different products are formulated with different ingredients. I usually look for products with extra hydrating ingredients as I have a combination skin and helps moisturize my skin. The added bonus is unlike repeat applications of moisturizer, a mist do not mess up makeup and with a continued use of makes the skin hydrated.  If a mist only contains water like rose water or only aloe water, it can actually make the skin drier as it evaporates and we so be sure to wear it under a cream or oil.
Seal in extra moisture
Another way to increase skin's hydration is to layer one or more applications of face mist in between your skincare and makeup steps. For example, I use mist in between cleanser and serum, before and after moisturizer, or in between primer and foundation and allowing a few minutes for it to absorb after every spritz. With each step, skin undergoes sealing in the moisture with the product which is put on top. Your skin is ready and perfectly ready fo perfect photo.
Sooth Sensitive Skin
If your skin is prone to sensitivity, a face mist can help take down redness, calm irritation and replenish lost moisture. It just needs to be the right face a more basic formula with gentle ingredients like aloe vera, tea tree, rice water, etc., which also helps control breakouts.
Facilitates better absorption of other products
Damp skin acts like a sponge, quickly absorbing any products you put on it. So if you want to maximize the performance of your lotions, creams and face oils, try using them on top of a layer of face mist. They'll penetrate deeper, giving your skin more of their beneficial ingredients.
So, do you NEED a face mist?
Okay, so using face mists may not be an essential step like cleansing, toning or moisturizing, but mist is definitely a convenient way to give skin an extra boost—and improve your makeup game. The key is to choose and choose mist wisely, making sure the product is packed with good ingredients and applied at the right time in beauty regime. Besides its versatility, favorite thing about face mist is the instant gratification factor. One spritz, and right away your skin looks dewier, plumper and brighter. It might not be permanent, but that's the great thing about face mists… you can spray them on again and again and again!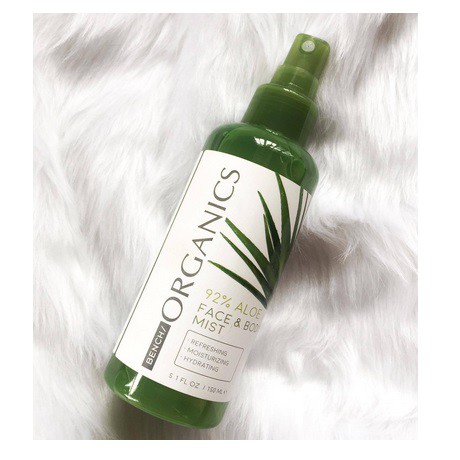 I am using the Bench Organics – Organics 92% Aloe Face & Body Mist for last few months and it has yielded effective results and I always carry in my bag.
FAST FACTS: Formulated with 92% aloe vera leaf extracts; helps moisturize, soften, and nourish tired and dry skin; lightweight formula is quickly absorbed; can be used under or over makeup.
Anyapurba Sarkar (Annie)
Follow Me On 
Disclaimer: Please note I am not a certified nutritionist/dietician or cosmetologist.