Šimon Kern found an unconventional use for leaf litter: green furniture. The Slovakian artist created Beleaf, a biodegradable chair made from recycled leaves, bio-resin, and steel. Developed during his studies at the Jan Evangelista Purkyně University in Ústí nad Labem, the Beleaf chair was constructed as an eco-friendly alternative to plastic furnishing.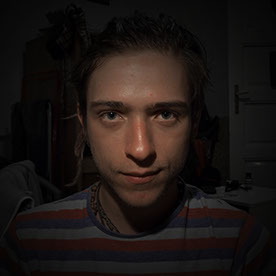 Look around you. Plastic is everywhere, even though human society said 40 years ago that plastics are not affordable anymore. What if we can replace them with nature? Šimon Kern  project is focused on practical use of garbage leaves from the cities in the furniture industry. Imagine a tree. Trunk and the branches grows for hundreds of years. The new leaves grow every year and on the end they fall down and work as a fertilizer for a tree itself. Imagine we can make the same circle in reality of furniture. There is a skelet of a chair (trunk and branches), made in a way that it can survive for hundreds of years. Than, we have a seat (leaves), which is not so strong, so after year, if it gets damaged, we just brake it and put it under the tree where it disappear in the soil and fertile a tree. Than we pick the fallen leaves once again, and make a new seat. In his project, he invented a new material, by mixing and pressing the fallen leaves and a bio resin, so the seat is completely biodegradable and can easily continue in its natural cycle. Nature is a future. We just need to beleaf, that there is a way how we can change this world.
In order to offer an alternative to the use of plastic, as well as to use waste material, Slovakian designer Šimon Kern designed a chair with a seat and back made from fallen leaves and bio resin, called Beleaf.
The aim of the chair is to make the most of natural waste, and combines dead leaves with bioresin, made from leftover cooking oil, making it completely biodegradable. The material is pressed into a mould and once it is set, it is sanded down and attached to the framework.
The seat of the chair rests on a skeleton of steel tubes, which allow for many curves in the framework. The frame is designed to last, like a tree, while the seat can be replaced when broken.
Each year in autumn, broadleaved trees let their leaves fall, serving as fertiliser for the next year, so that new leaves can grow. The Beleaf chair postpones this process as long as the seat is being used. After that, it can serve as food for a tree, as it is completely biodegradable, which will then make new leaves, for a new chair.
Kern is still perfecting the process, designing more ergonomic versions of the seat.
To know more about it click on link