Qatar's spas redefine luxury and indulgence, with unique experiences in novel settings. Book a session to pamper yourself or to relax after a busy day out exploring.
Sisley, one of the most prestigious cosmetic brands from Paris, specialises in high-performance, plant-based skincare, make-up, fragrance and haircare. Renowned for its research and expertise in phyto-cosmetology and unrivalled anti-aging treatments, the French luxury cosmetics brand brings its Parisian elegance to the heart of Doha and opens its doors to the largest Sisley Spa worldwide.
Phyto-Cosmetology
Built on a tradition of phyto-cosmetology, Sisley blends the powers of science and nature to offer high-performance, result-orientated treatments for all skin types.
To create these products, Sisley selects the best type of plant in its category, the most effective part of the plant for the problem being treated, the country or region where this plant is the best and, finally, Sisley harvests the plant at the very moment when it will provide the most effective active properties.Plants' vital energy, their capacity for regeneration and adaptation, their protection systems, and their fragrances have been put to use across Sisley's full range of products.
Facials, massages, body treatments and hair services at the W Doha utilise Sisley products to offer highly effective head-to-toe skin nourishment and beautification.
Address:
Sisley Spa, W Doha
West Bay, Zone 61, Building 262
PO. Box 19575, Doha
Call us: +974 4453 5555 or +974 3059 8071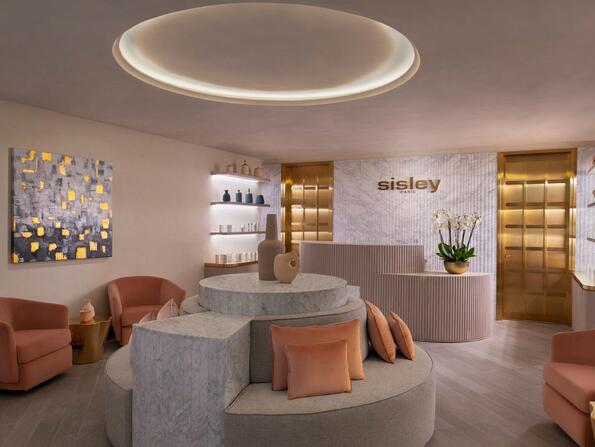 The Spa at Al Jasra Boutique Hotel combines traditional Arabic treatments with modern techniques. Along with a luxurious Moroccan hammam, the spa offers a range of massages including traditional hot stone and aromatherapy.
Coax your senses into a state of complete serenity with unique pampering treatments at The Spa. Refresh and become unburdened from stress, starting with golf cart transport to Al Jasra Boutique Hotel, boasting charming views of Souq Waqif. Arabic hospitality and a restful haven with plush decorations ensure instant relaxation. Experience the charm and quietude of Doha's only Moroccan hammam experience, as well as herbal facials or get pampered with an in-room signature massages at your convenience.
The Sharq Village & Spa, located along the coast in central Doha, is one of the biggest and most luxurious spas in Qatar.  Modelled after a traditional Qatari village, it contains 23 treatment rooms and four spa areas, each with a different theme which reflects Qatar's rich culture of wellness, along with hammam rooms, saunas and a private ladies-only area.
DISCOVER A LUXURY SPA EXPERIENCE IN DOHA, INSPIRED BY YOU
Modeled after a traditional Qatari village, The Spa at Sharq Village immerses you in a spa experience that awakens your senses.
This extensive luxury spa in Doha features 23 unique treatment rooms, each arranged to reflect Qatar's rich culture of wellness, along with hammam rooms, saunas and a private ladies-only area.
Personalization is at the heart of the Ritz-Carlton Spa experience at Sharq Village and our professional therapists offer a wide range of services from innovative physical therapy to beauty treatments and full-day experiences. You are the expert of your wellness and we are dedicated to take it to the next level.
Reserve a Treatment
For more information or to make a reservation,
please call +974 4425 6999 or email rc.dohsq.spa@ritzcarlton.com.
Address
Ras Abu Abboud Street, PO Box 26662
Doha, 26662 Qatar
Phone +97444256666
For a peaceful escape from the hustle and bustle of city life, enjoy the traditional hammam experience at the Anantara Spa at Banana Island Resort Doha. Winner of Qatar's Best Hotel Spa 2019 at the World Spa Awards, the Anantara Spa is on a private island overlooking the water.  It features a traditional Turkish hammam and a diverse range of treatments and massages inspired by Thai wellness.
A Doha spa where Arabian rituals meet Thai-Western healing.
IMPORTANT NOTICE
In view of the preventive measures against COVID-19 taken by the Government of the State of Qatar and according to the gradual lifting of the restrictions, please be informed that as of 28 May 2021 all indoor facilities such as restaurants, fitness centre, bowling, cinema and spa will be available only to fully vaccinated people, with a limited capacity as stated by the Ministry of Public Health. Children younger than 12 years are not allowed inside the cinema and must be accompanied by fully vaccinated parent/s or guardian/s to access other indoor facilities.
Address & Contact us 
Open daily, from 9.00 am to 9.00 pm
Banana Island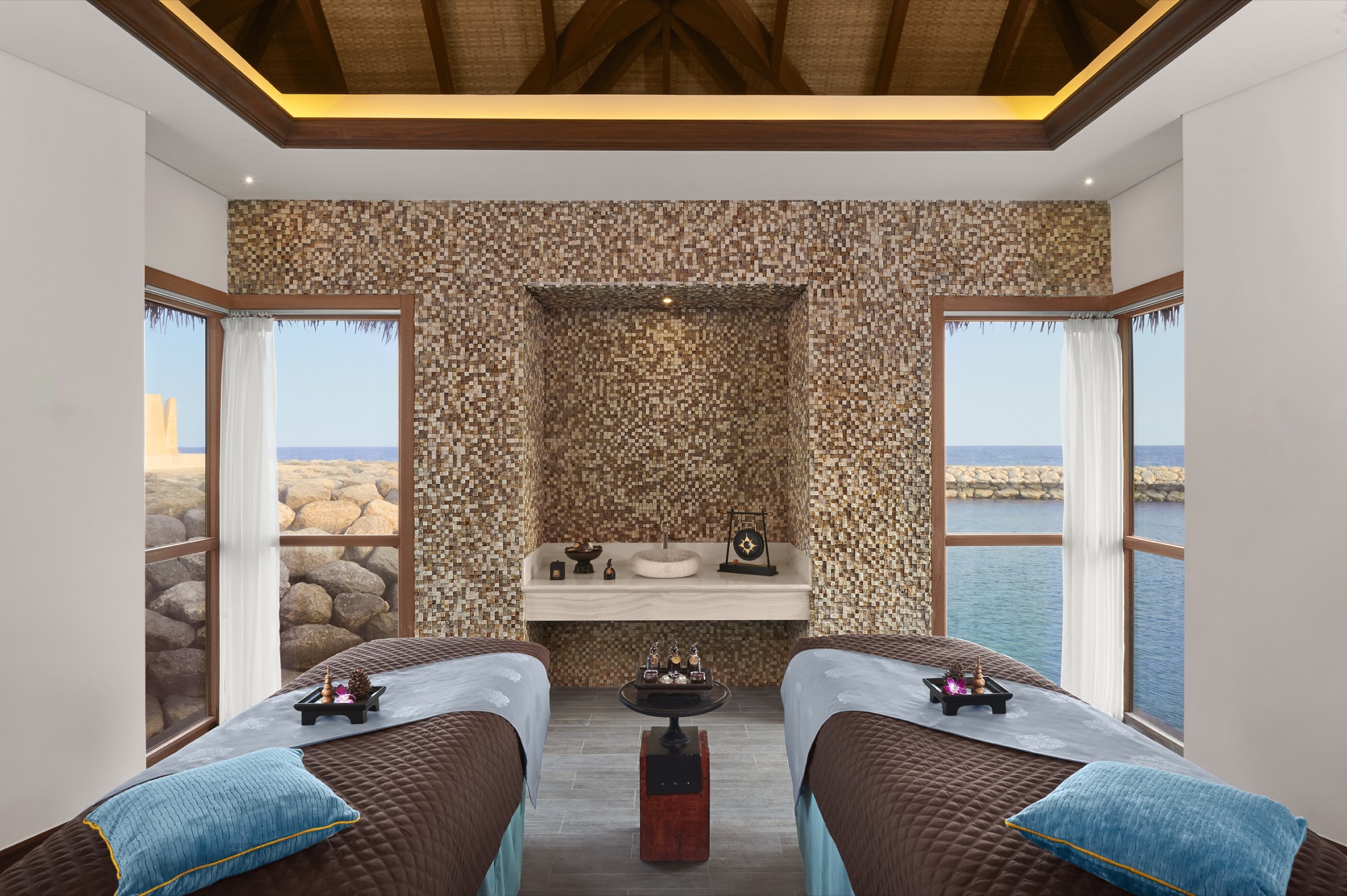 The Spa at Mandarin Oriental, Doha takes a holistic approach to helping guests find wellness of the body and mind. Guests are immersed in a seamless journey with holistic treatments based on the orient's aged old philosophy of zen and balance. Signature programmes and treatments are tailor-made to the individual, thereby providing a completely bespoke experience for every guest.
A wellness discovery
In adherence to the Qatari health authority's directives and in line with our strict health and safety practices, kindly be informed that following the new precautionary measures the Spa & Wellness facilities including the hotel pools are open daily for fully vaccinated guests until further notice.
An oasis of calm and tranquillity offering guests a holistic wellness journey to find their "zen" – feeling and looking their best.
Spread over 3,030 square meters, the nine treatment rooms include one couples suite and two exclusive VIP suites. The spa also features male and female indoor pools as well as extensive heat and water experiences for guests to enjoy before and/or after their treatments. The spa indoor pools are open to guests aged 18 years or above.
Overlooking the magnificent Barahat Msheireb, the Mandarin Oriental Spa is spread over 3,000 square metres and will make you feel like royalty. The spa offers 9 treatment rooms, a couples suite and VIP suites besides male and female indoor pools as well as extensive heat and water experiences for guests to enjoy before and/or after their treatments.
Spa Facilities
Six private treatment rooms
Two exclusive VIP suites and a couples' suite
One gold quartz sand treatment bed by Gharieni
Heat and water experiences
Separate relaxation areas for male and female guests
Separate indoor spa pools with heated loungers
Address & Contact us 
Barahat Msheireb Street
Msheireb Downtown Doha
PO Box 23643, Doha, Qatar
Map & Directions
Telephone +974 4008 8888
Email modoh-info@mohg.com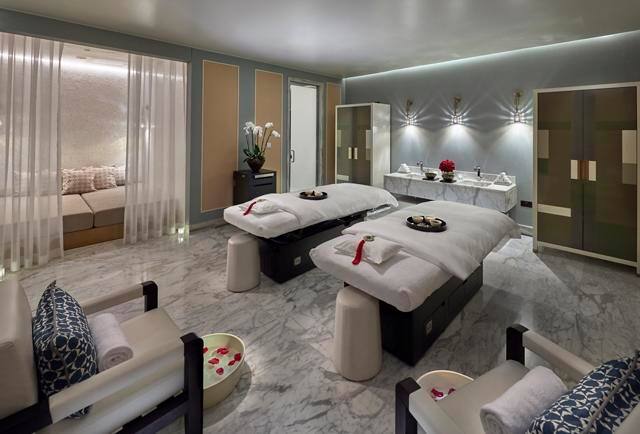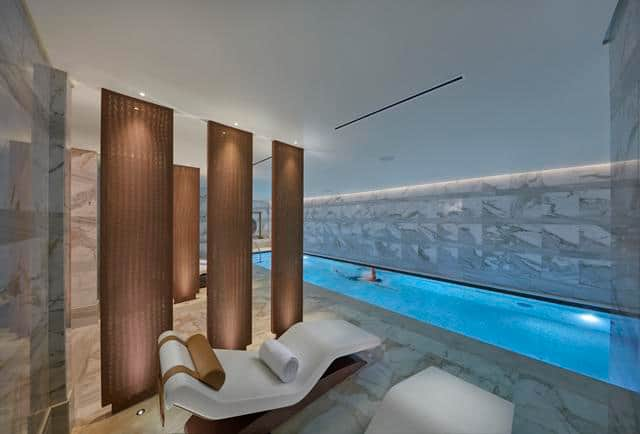 Hidden in a "Secret Garden"
Your favourite products are one call away! Enjoy the best of ESPA Doha from the comfort go your home.
ESPA at Mondrian Doha delivers an unforgettable wellness experience. Shimmering mosaic walls lead guests to the 12 treatment rooms, a heated experience garden, relaxation rooms and our traditional Turkish Hammam.
ESPA has over 3,500 highly trained therapists administering over three million treatments per year. They pride themselves on getting to know their customer's skin and body in order to learn what will work best to express their natural beauty. ESPA create all of their own products using only the very purest extracts for instant, lasting results, every day.
ESPA in the Mondrian Doha, winner of the "Luxury Hotel Spa Country Award, Qatar" by World Luxury Spa Awards 2019, is an oasis of calm amidst the bustle of the city.  The largest ESPA in the world, it is spread over 22,000 square feet, with 11 treatment rooms and a traditional Turkish hammam.  Treatments use technology to increase the efficacy of natural products, and along with traditional spa treatments, ESPA offers oxygen therapy – detoxifying not just your pores, but also your lungs.
Female Spa
Featuring five treatment rooms and one VIP treatment suite with two treatment rooms, the female spa is a haven of peace and purity. Beautiful white and pink mosaic walls create the perfect feminine energy and guide ladies through their journey of rejuvenation.
Guests can enjoy princess-like treatment as they relish the crystal rain showers, the Finnish sauna made from Scandinavian wood, steam rooms and relaxation rooms that feature individual daybeds. To finish the day of pampering in style, stop by the beauty box for a manicure and pedicure, or the hair salon for a new look.
Male Spa
Dark blue, grey, white and black combine to create a bold, masculine environment in the male spa. Four treatment rooms, one VIP treatment suite with two treatment rooms, wet and dry steam rooms, shimmering showers and individual heated daybeds are all designed to relax, rejuvenate and energize guests.
Finish your day of luxury by relaxing at the "Fire and Water" fountain before heading into our iconic Turkish Hammam.
Address & Contact us 
Phone +974 4045 5555
Email Us mondriandoha-res@sbe.com
Remède Spa is committed to creating an exceptional and unique experience for each guest. From fruits to luxurious throws and customized treatments, our goal is to surpass all expectations and to help you escape to a sanctuary of indulgence and relaxation. Our staff is dedicated to making your visit spectacular.
For guests who desire locally-inspired experiences, each Remède Spa offers an exclusive selection of treatments featuring techniques and ingredients inspired by its region's distinct characteristics and unique traditions. Transport yourself to a level of relaxation that previously only existed in the realm of imagination.
The St. Regis is home to Remede Spa, voted "Best Luxury Beach Resort Spa – Middle East & North Africa 2019" at the World Luxury Spa Awards. The spa contains 22 private treatment rooms, a hydro pool, steam rooms, relaxation lounges as well as couples treatment rooms, where cares melt away at the hands of highly trained staff. A selection of treatments use techniques inspired by Arabian tradition, and local ingredients to soothe and pamper.
Address & Contact us 
Remède Spa
The St. Regis Doha, Doha West Bay, Doha, 14435
To find out more about the Remède Spa or to become a member, please call 44460304 or e mail dohxr.recreation@stregishotels.com
Al Messila Wellness Resort & Spa is the first 5-star wellness retreat in Qatar. The ladies-only retreat is the first of its kind in the region. It contains 26 treatment rooms, two fully equipped gyms, private training, spinning and movement studios, three mineral therapy pools, a daylight-enhanced recreational pool and four hydro wellness worlds: Oriental, Floral, Mystic, and Mineral. Each 'world' contains flotation tanks, cocoon beds, oxygen rooms, Kneipp walks, hammams and salt rooms.
Introducing the most all-embracing and comprehensive ladies-only wellness retreat in Qatar, at the heart of one of the most luxurious resorts in the country. The exceptional architecture of Al Messila Ladies Wellness Retreat allows natural sunlight to enrich the rejuvenation experience every step of the way. Providing uniquely outstanding hydro-thermal facilities, this extensive spa and wellness center in Doha features 3 therapy pools and 4 hydro-wellness areas offering a brand new take on holistic wellbeing: The Worlds. Your journey to wellness starts here.
Address & Contact us 
Um Al Saneem Street Street Number 970, Doha
Contact us at +974 4445 0000 for details.
Zulal Wellness Resort is a pioneering destination in the Middle East that blends Traditional Arabic & Islamic Medicine with a holistic health and wellbeing philosophy, established by Chiva-Som, the internationally-acclaimed wellness resort in Thailand. We welcome guests from all over the world to our coastal home on the northern tip of Qatar, where we offer two distinct yet interconnecting experiences. Zulal Serenity is dedicated to adult guests seeking an immersive health and lifestyle reset, while Zulal Discovery invites families to connect and embark on a wellness journey together. We aim to inspire you with positive and sustainable lifestyle changes.
Zulal Wellness Resort, expected to open shortly, is spread across 280,000 sqm in a secluded coastal enclave north of Doha. It is expected to be the Middle East's first full-immersion wellness resort, and the world's first centre for Traditional Arabic Integrative Medicine (TAIM). The resort is owned by Msheireb Properties in collaboration with market-leading wellness brand, Chiva-Som International Health Resort.
COMING SOON
Zulal Wellness Resort will offer the highest international service standards rooted in traditional Qatari hospitality. An announcement of the opening will be coming soon.