Come explore kayaking in Qatar at the Al Thakira Mangroves. Experience the wildlife of Al Thakira through reef egrets, terns, herons and enjoy the simple pleasures of the occasional jumping fish. Get the opportunity to educate yourself on this great Qatari ecosystem through the sharing session from our biology specialist and learn some interesting facts on the ecology. Book Qatar kayaking for the best outdoor nature experience away from the hustle and bustle of the city.
Kayaking At The Purple Island by 365 Adventures
Share the exhilaration of spending a day at Qatar's natural wonder, Al Thakhira Mangroves reserves. You will be surrounded by the lush green mangroves and a wide variety of unique birds, fish, crabs, etc. The 90 minute thrilling kayaking experience brings you close to nature in the most eco- friendly way. Enjoy a perfect weekend with your friends and family surrounded by the gorgeousness that is Purple Island.
Highlights:
Drive through the scenic north eastern coast of Qatar to reach the beautiful Purple Island, you will be guided by our cars from the meetup point.
A comprehensive introduction to Kayaking and brief training which is completely novice friendly.
We provide you with kayaks, paddles as well as US Coast guard approved safety jackets.
A 90 minute fun and energetic Kayaking experience in the channels of the mangroves of Purple Island.
A guided walk through the ecology of the mangrove forest (on request).
Itinerary:
Meeting Point: Al Meera – Al Thakhira
Duration: 2 hours
Start time:  Depends on tide everyday
Travel time: 1 hour each way
Join us for a 4 hour day trip of thrilling & adrenaline filled kayaking. We meet you at the Al Meera in Al Thakira from where you may follow us in your cars to the elusive Purple Island- a Qatari natural wonder. Enjoy the scenic beauty of Qatar while you cruise through the majestic north-eastern coast of the country.
Bring on Board:
Bring along sandals, sunscreen & sunglasses along with appropriate sportswear for kayaking. You may also carry snacks and other necessities to enjoy the day.
Don't forget the camera to capture this memory for a lifetime.
What is included in this tour?Items that are included in the cost of tour price.
Kayak & paddles
Guide
Briefing & Training
Insurance
Life Jackets
Water
Toilets facilities
Whats not included in this tour.Items that are not included in the cost of tour price.Meals
Booking Link 
Sunset 🌄 Kayaking Eco-Adventure 🚣 & Discover Mangrove Wildlife (Purple Island 🌳) – AlThakhira (رحلة الغروب) By Aqua Sports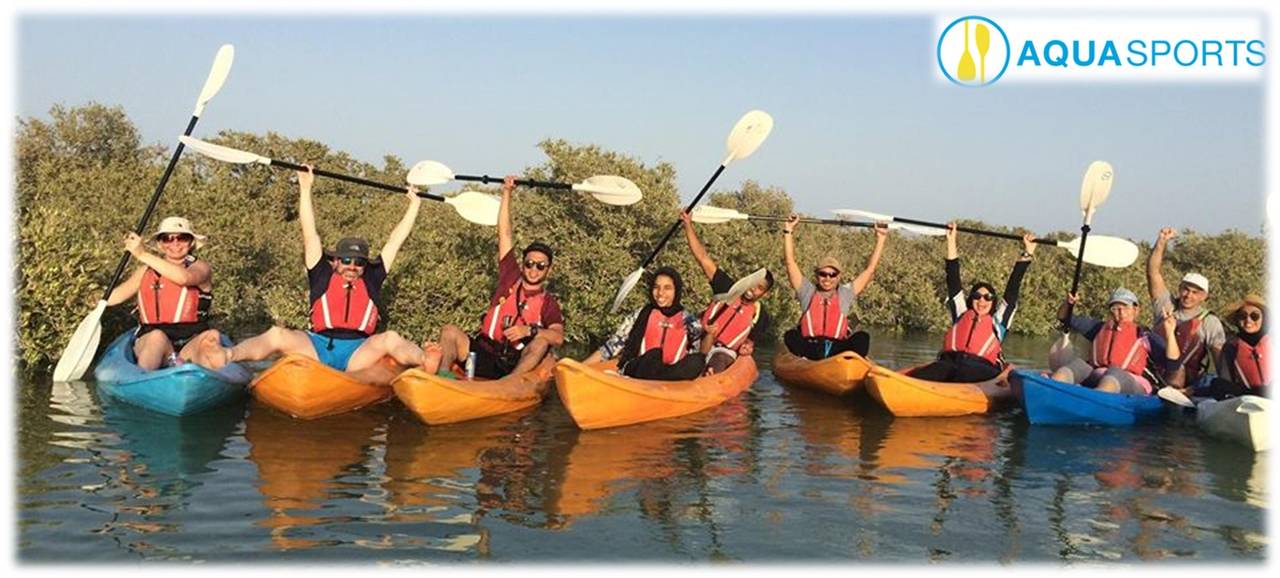 Nestled along the coast near Al Khor is a vast and beautiful mangrove forest, the best way to access the forest is by kayak. We will take you through the network of channels that have been carved out by tidal action. The area supports a lot of bird life and is a favorite destination for nature lovers. Sun set is a perfect time to see the birds and listen to the sounds of the forest.
Suitable for families and those looking for a relaxed easy paddle taking in the greenery and bird life of the nature reserve
Fitness Level : anyone can join
Swimming Skills : not required as it's mostly shallow water
All equipment is provided….
Package include :
✰ Kayaking Fundamentals & Safety instructions
✰ Kayaking Equipment (Paddle , Life-jacket , Kayak )
✰ 90 minutes Kayaking 🚣
✰ Beverages (Cold & Hot🥤)
✰ English / Arabic speaking Tour guides 🗣
✰ Certified Lifeguard Rescue/ First- Aider and qualified Instructor Escort🏅 (Male coaches)
✰ Photography 📷
✰ Bird Watching 🦢
✰ Swimming & Snorkeling Break on Purple Island 🏊
✰ Learning Mangroves Ecosystem 🌿
✰ Bedouin Camp facility ( Shower, toilet, changing tent, Shade, Carpeted area with floor seating, relaxing mattress, volleyball 🏐, Soccer ⚽, First Aid station , live music 🎼 , Traditional Karak with cake 🍶 )
✰ Insurance
Moonlight Kayaking by Discover Arabia
You can experience amazing moonlight paddling through Al Thakira mangrove forest.
Kayaking amid the stunning and intriguing Al Thakira mangroves in Qatar is a worthy experience. The tour takes you through one of the most fascinating mangroves in Qatar located within a small village just a few kilometers North of Al Khor. The village rests on the edge of an estuary. It houses mangrove swamps that has extremely high saline seawater content, which adds to the size of these mangroves, making them the most established in Qatar – this is where the real adventure awaits you.
Please Note that Price will vary according to trips.
Contact Email: entalek.org@gmail.com
Contact: (974-30233207)
Booking Link
If you have not yet tried kayaking in Qatar you must definitely book one of the tour to experience it.