Here is how to make Paneer Makhanwala at home…
Paneer is something which most of the people loves it, especially, the vegetarians. During most of restaurants visits, there are few delicacies which always tops the list of menu for the order, one of them is Paneer Makhanwala.
As the name says, Paneer Makhanwala is a rich paneer dunked in buttered gravy of Onion-tomato cashew base. Well, if you are calorie conscious, then you may think that butter added is little more. But, it wouldn't be a justice to the dish if less butter is added as its name itself says makhanwala. When it comes to richness, taste and authenticity of the dish, I never compromise on addition of butter, oil or ghee to the dish because once in a while it is absolutely fine.
Ingredients:
1 cup Onion chopped
4 Large Tomatoes chopped
25 nos Cashew nuts
1 tbsp Butter butter
400 g Paneer cut in 1 inch squares
1 Green Chilies crushed or paste (you may add more if preferred)
¼ cup Capsicum very finely chopped
1 tsp Garlic paste
1 tsp Ginger paste
4 tbsp Tomato puree
¾ tsp Garam masala powder
2 tsp Kashmiri chili powder
¾ tsp Turmeric Powder turmeric powder
2 tsp Coriander Powder coriander powder
1 tsp Shajeera (Caraway Seeds) (You can also use cumin seeds)
1 Bay Leaf
2 tbsp Cream cream
1 tsp Honey honey
1 and 1/4 tsp Kasuri Methi kasuri methi
5 tbsp Butter butter
Salt to taste
Warm water as required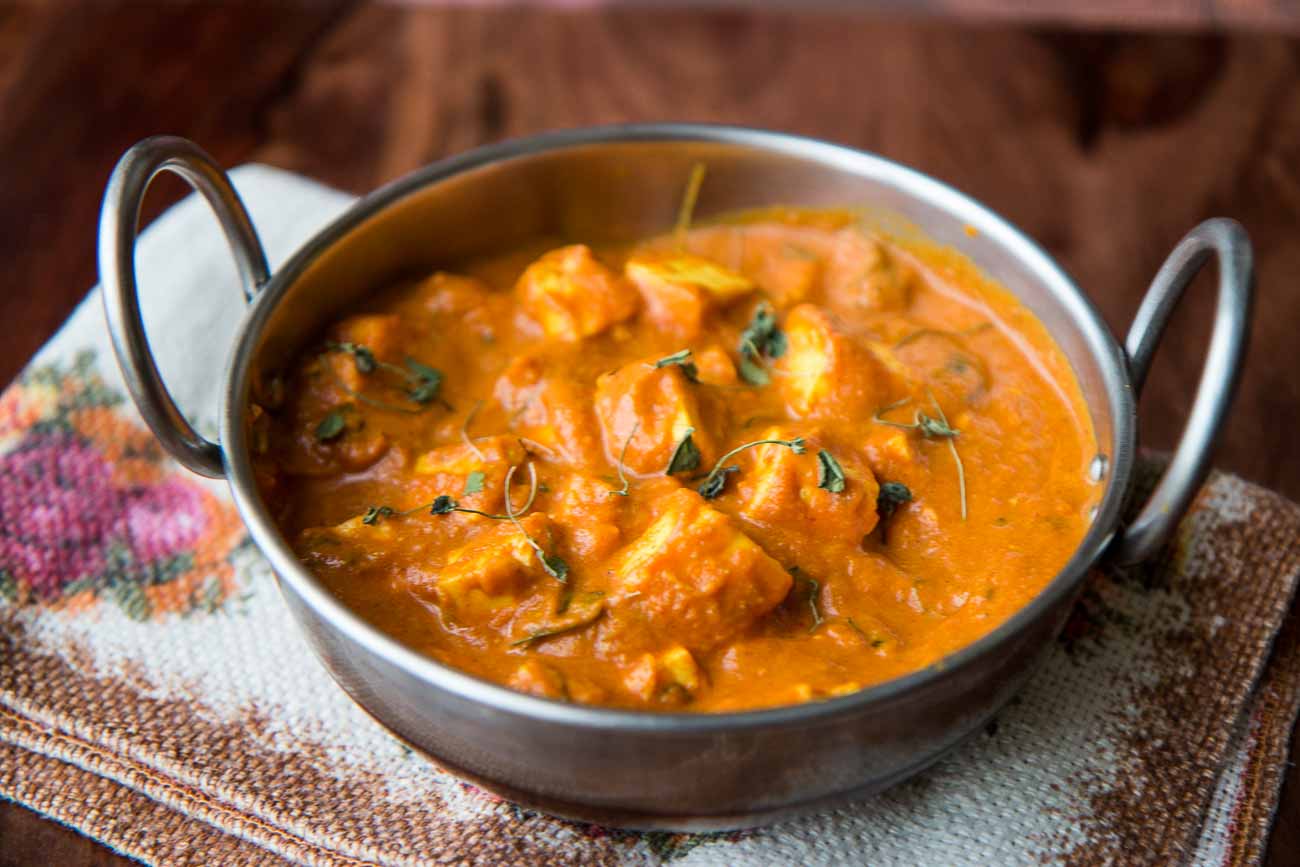 In a pan Dry roast Cinnamon stick, cloves,Brown Cardamom, green cardamom,Star Anise
Add Ghee and let it absorb the flavors of the Spices
Add Ginger -Garlic paste and Sauté till light brown
Add Onion Purée and sauté till brown
Add cashew nut paste and sauté for few minutes
Add Tomato Purée and cook for a few mins
Add Salt, red chilly powder and Turmeric and cook well
Add paneer cubes and Stir ( See Note)
Now add Honey , Garam Masala, milk and Cream if desired
Cook for a few mins then add Kasturi Methi ( Dry Fenugreek leaves)
Paneer makhanwala is best served with lachha parathas, butter naan, parathas, phulkas. You can also, enjoy it with zafrani pulao, jeera rice or matar pulao
Cover the Pan and let it simmer on a slow flame for about 5-10 minutes
Note- Consistency of Vegetable can be adjusted by controlling the amount of Milk added or by alternately adding some water after introducing the Paneer
Paneer Makhanwala – Stay Safe Foodie Safe
(Recipe by Arun Mehra – Engineer – Video By Sachin)