The present century is considered to be the golden age of technology. Smartphones and computers are the essential commodity of today's generation with rapid development in recent years. Besides, globally, in nearly all developed and emerging economies, it has culminated in developing critical markets, collectively known as E-commerce. The fear of the contagious disease has forced people to pay bills and consult doctors through the internet. There is no exception to online pharmacies. Today, almost all, including drugs, are available on the online market. Patients complete their orders electronically and collect medicines at their doorstep, under e-pharmacies format. E-pharmacy is a growing market and a part of the more regulated medical services market in industrialized countries such as the US and Europe. Medications are monitored by barcoding for systemic supply by doctors. That being said, several factors could boost online pharmacy growth.
Qatar is a world pioneer in healthcare, with a balanced stream of government spending and assistance, government hospitals, and medical technology (Medtech). Qatar has ranked 48th out of 167 health nations. The country's health expenditure per capita is the largest in the Middle East, meaning that it tends to be one of the region's healthiest and contributes to the rising demand for medical tourism.
The healthcare sector in Qatar is very promising in this sense.
Health demand in Qatar is growing.
Qatar has become a global health care leader by offering a balanced stream of public funding and support, new facilities, and an advanced medical (Medtech) industry. Qatar is ranking 48th out of 167 nations, with a score of 76.07 in 100, the third-highest in MENA, in the Legatum Prosperity Index created by the Legatum Institute, a UK-based Think Tank. Per capita health spending is also one of the largest in the Middle East, meaning that residents remain one of the region's healthiest and that medical tourism is again rising in the country.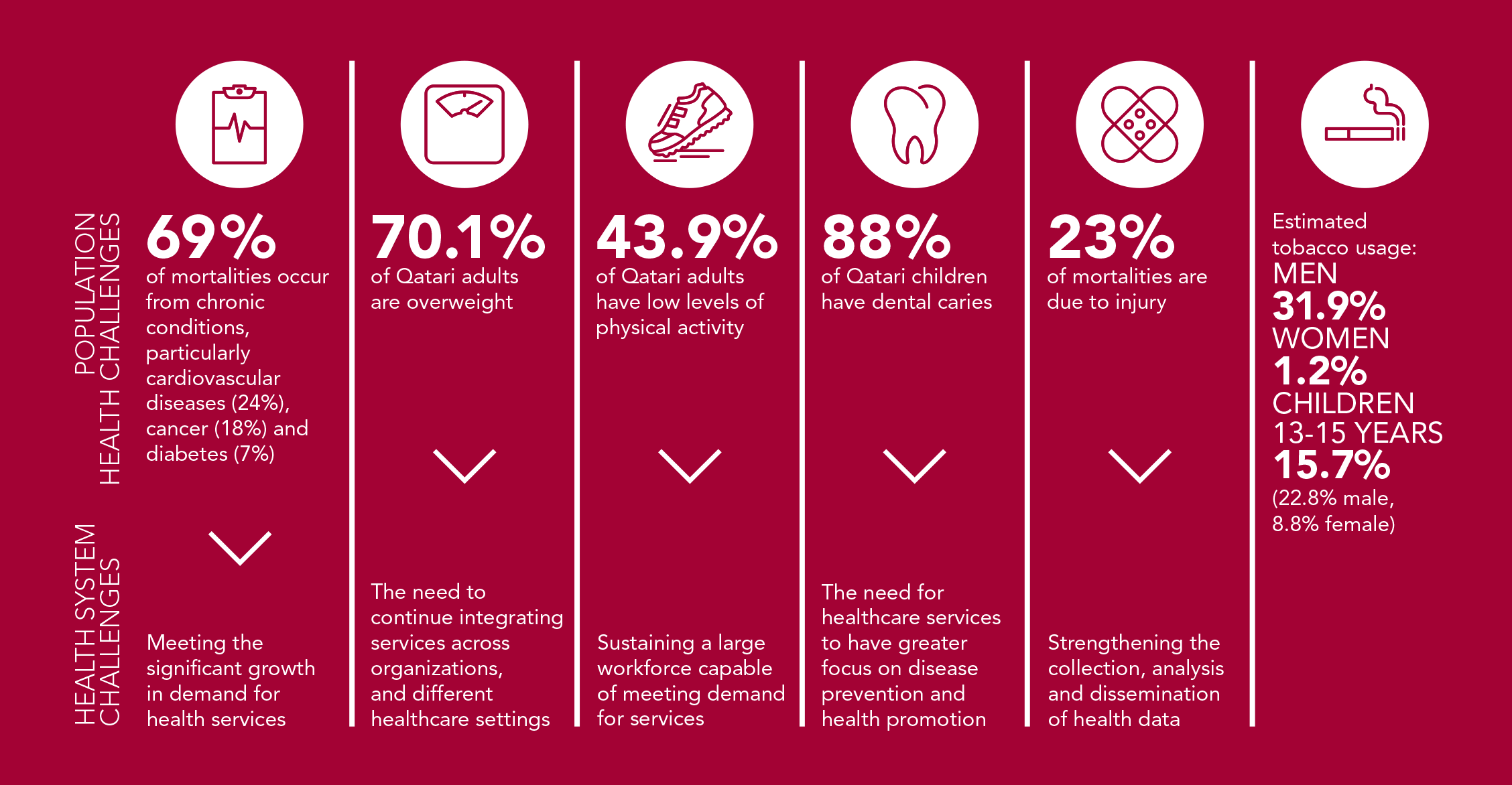 General indicators
In 2016, Qatar's life expectancy hit 78,2 years, the highest rate in the GCC and almost equal the US average of 78,6 years, according to recent World Bank statistics. Qatar has the highest per capita health expenditure in the GCC, comfortably ahead of the UAE, Saudi Arabia, Bahrain, and Kuwait.
Increased healthcare spending has now had a significant impact on technology and access to services. In 2018, there were approximately 3535 hospital beds in Qatar compared with 3011 in 2017 and 2627 in 2016, as reported by the Ministry of Development Planning and Statistics.
Structure & Monitoring
The Ministry of Public Health (MoPH)  is the primary government department responsible for formulating Qatar's general policies and initiatives.
The sector is also driven by the National Health Strategy (NHS), which runs from 2018 to 2022. It aims to draw on the successes of past interventions, emphasizing facilitating the exchange of knowledge between providers of health care and combating the development of NCDs through public health strategies and improving care in areas including mental health treatment.
Public spending
In 2019, QR 22,7 billion ($6,23 billion) was allocated to healthcare in the country, which accounted for 11 percent of their overall spending. This remained unchanged for 2020. According to an Alpen Capital regional investment bank report, Qatar's healthcare spending is forecast to rise by an average of 2.2% a year until 2022.
The HMC facilities are being extended, and several new health centers were built as the public sector's main projects in 2020. The budget for 2020 will expand upon current plans to build new labs in Al Wakrah, Al Mashaf, Al-Saad, Al Khor, and Ain Khaled. The budget will include five health centres in advance. In line with the country's rising demand for facilities, private healthcare operators have played a significant role. 
Emergence of E-Pharmacy
Demographically, the Middle East is young. Many countries with more than 30% of the population under 15 years of age. No wonder these demands for changes,  always driven by the young Arabs who aspired to reform. This same youthful energy could soon lead to a revolution in pharmacy practice in the area. Arab Pharmacists are familiar with the ideal and associated pharmaceutical treatment methods and events such as drug therapy management through workshops, lectures, conferences, and undergraduates in some pharmacy schools[1]. It encourages young pharmacists and pharmacy students who want to take on a new role in pharmacy practice and give up ancient practice models dominated by pharmaceuticals in the area.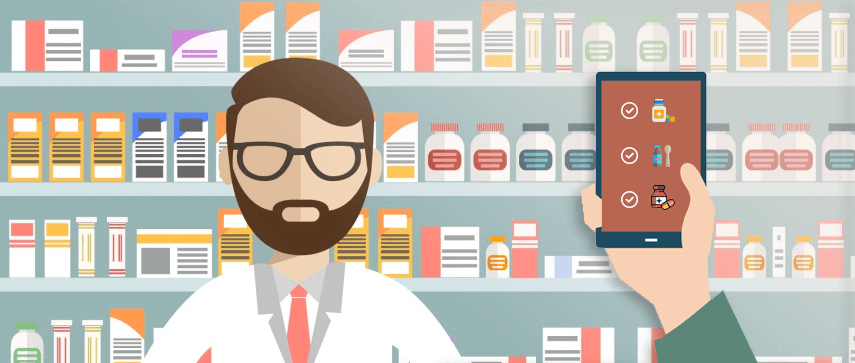 Qatar's dynamic leadership is worth mentioning in its ambition to switch Qatar from a carbon-based economy to a knowledge-based economy.
The healthcare industry, which has historically been dominated by expatriate professionals, has also undergone immense changes. Politicians from Qatar started programs to train domestic graduates through the hosting of satellite sites from the Weill Cornell Medical College (US) and the University of Calgary branch in Qatar to aid the creation and growth of the healthcare industry. The College of Pharmacy has been set up at Qatar University recently. Qatar's concept of the E-pharmacy sector has grown expansively, thanks to their innovative IT business, the pandemic impact of COVID-19, and shifting shopping patterns, among other factors.
The prescription needs of Qatar's customers are gradually becoming online. The country's e-pharmacy sector is well poised to achieve substantial growth with one of the world's highest Internet adoption rates and stable payment possibilities. Companies can broaden their online presence to expand their market and diversify their client base. Online shopping is easy, fast, and reliable for customers. When you understand the advantages, it is no surprise that more people go online to fulfill their medical requirements.
The proliferation of mobile apps and the convenience of securely in touch with the medical personnel while on the move have been voted as the top two reasons why Qatar's people rely on online platforms.
The intention of implementing new technologies to a business is to boost results. Start with the target you intend to achieve and plan backward, to find a solution that can best help better performance. Time is ripe for business to go digital. Care n Cure Pharmacy is one such leading online pharmacy in Qatar, offering a wide variety of local prescription products, vitamins & supplements, beauty & personal care, home wellbeing, first aid, infant care, and so on. They have over 34 networks in Qatar and are equipped with an active website and mobile app(Playstore , Apple Store), which is easy to use. The pharmacy is well structured, allowing you to select and purchase online from multiple brands conveniently. All goods are distributed across Qatar within 5 hours. There is also 24/7 chat support to clear any queries.