AL SADD
This district is best known as the home of Al Sadd Sports Club – one of Qatar's most successful football teams with a dedicated following of lively supporters. If you're there when a game is on make sure to check it out – win, lose or draw, it'll be an unforgettable experience.
The neighbourhood has long been home to many expat families, and you'll find high-end stores alongside independent boutiques – plus gyms, cafés and food from just about every corner of the world. Accommodation wise, you'll find a mix of mid-range hotels and apartments in an area west of Doha old town.
BEACHES
If you're someone who believes that life is so much better when you can roll your toes in the sand every day, you'll be pleased to know that Qatar has plenty of accommodation that's close to or right on one of the many pristine beaches.
In all of the beach areas you'll find top international luxury hotels with all the fine dining and services you would expect in that price range. There are also some fabulous serviced apartments and villas that will feel like home away from home.
DOWNTOWN DOHA
Downtown Doha is the place to stay to immerse yourself in Doha's rich Arabic traditions and dazzling modern architecture in one beat.
Take in ancient history at the Museum of Islamic Art, explore the new Msheireb district, then haggle for trinkets at Souq Waqif – the social heart of Doha for many in Qatar. This district seamlessly mixes old with new. In the same way, you'll find a mix of luxury hotels neighbouring many mid-range options. What's great is that there's no compromise on Qatar's renowned hospitality, making every stay here an unforgettable cultural experience.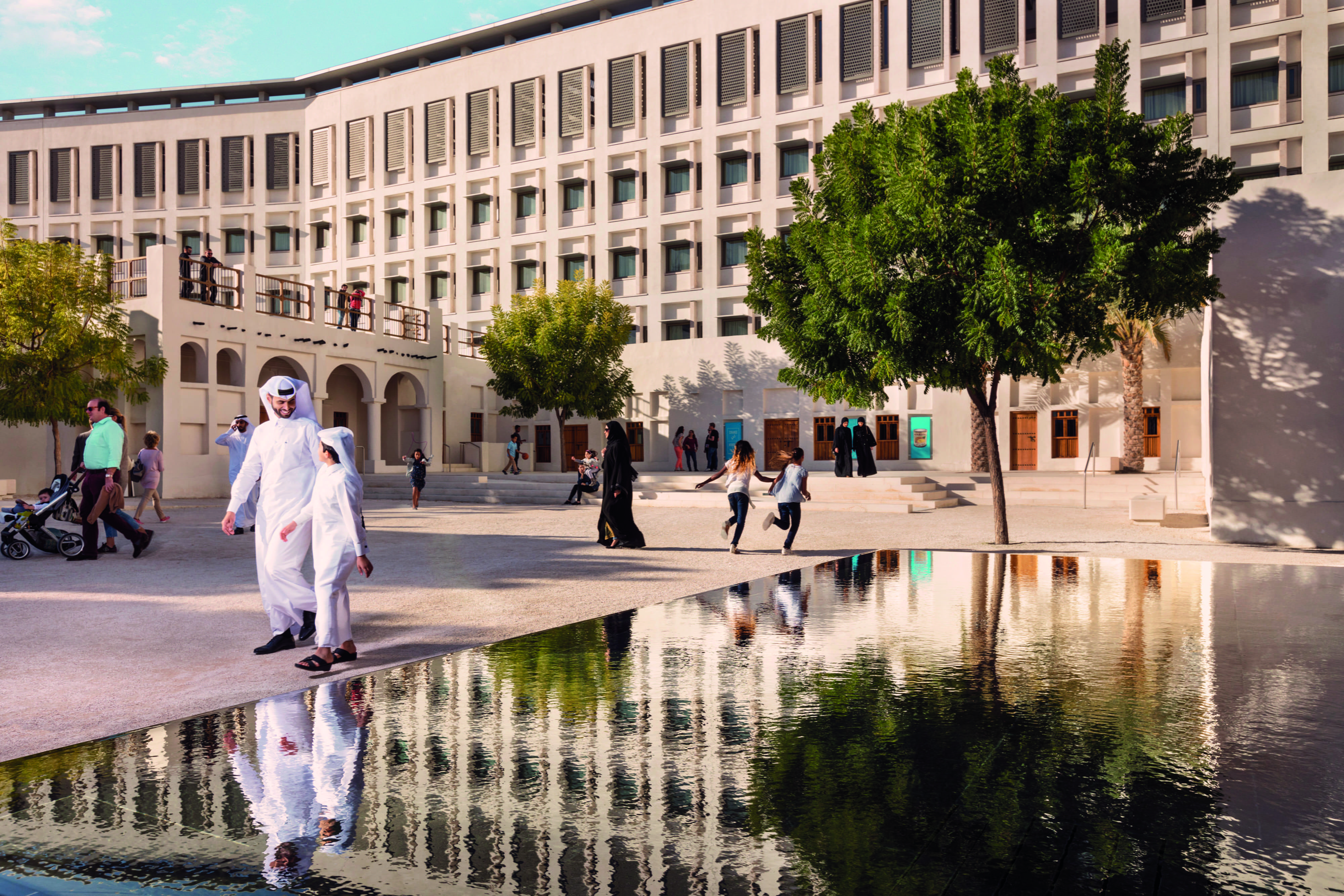 PEARL QATAR
Accommodation on the iconic Pearl-Qatar island and the nearby Lagoona area is premium luxury – it's that simple. This exclusive location offers fabulous hotels and high-end units with service that is second to none.
Guests can look forward to a multitude of leisure and entertainment options during their stay. There are two superyacht marinas, four independent marinas and immaculate beaches where you can do a variety of watersports. All this is complemented by a fine selection of restaurants, boutique eateries and lavish designer shopping outlets to complete your stay.
DESERT CAMPS
As once-in-a-lifetime experiences go, desert camping is highly rated – and often repeated. Travel just an hour outside Doha and a truly unique adventure awaits. Pitched up along the coastline from Mesaieed to Khor Al Udaid (known locally as the Inland Sea) you'll find the desert camps: it's glamping, Qatar style.
There are hotel-run, 5-star luxury camps that really have to be seen to be believed, as well as many independent operators providing their own take on this experience. All offer activities such as dune bashing with 4x4s, quad biking, camel riding and barbecues by the campfire.
CRUISE SHIPS
All aboard for all the trappings of a modern luxury liner without a hint of sea sickness. Many large ships will be moored along the coast of Qatar to provide bedrooms on water for visitors to the FIFA World Cup Qatar 2022™.
You'll be indulged just as you would sailing the oceans: experience all the glitzy shows, exquisite food and pampering services in one place. These ships are enormous so you'll find a variety of accommodation, from compact but comfortable cabins to grand premium suites with private balconies.
WEST BAY
Stay here and you'll be next to or already inside one of the many jaw-dropping skyscrapers and modern buildings that West Bay is famous for.
This is the home of Qatar's iconic cityscape staged beautifully along the Corniche – a sweeping waterfront promenade that extends all the way around the bay. Visitors can really spoil themselves with an array of shopping and eating options. Most accommodation options in this area have high-end amenities, such as crystal clear pools and indulgent spas, and some also offer private beach access.