A UNESCO World Heritage Site, Al Zubarah fort offers a glimpse into Qatar's history.
Al Zubarah Archaeological Site
The walled coastal town of Al Zubarah in the Persian Gulf flourished as a pearling and trading centre in the late 18th century and early 19th centuries, before it was destroyed in 1811 and abandoned in the early 1900s. Founded by merchants from Kuwait, Al Zubarah had trading links across the Indian Ocean, Arabia and Western Asia. A layer of sand blown from the desert has protected the remains of the site's palaces, mosques, streets, courtyard houses, and fishermen's huts; its harbour and double defensive walls, a canal, walls, and cemeteries. Excavation has only taken place over a small part of the site, which offers an outstanding testimony to an urban trading and pearl-diving tradition which sustained the region's major coastal towns and led to the development of small independent states that flourished outside the control of the Ottoman, European, and Persian empires and eventually led to the emergence of modern day Gulf States.
Highlights of Visit
Adjacent to Al Zubarah, Qal'at Murair was a strategically important site, providing ease of access for boats to trade and collect water along its canal, the remains of which are still visible today. Qal'at Murair – a large rectangular enclosure with four corner towers, originally featured domestic buildings, a mosque, cisterns, and large wells – and the fort remained occupied until the construction of the new Al Zubarah Fort in 1938. Visitors can see items such as original pots and pans, diving weights that would have been used by pearl divers, cannonballs, clay pipes and even coins.
The heavily fortified town of Al Zubarah fell to forces loyal to the Sultan of Muscat in 1811. In the 19th century it expanded into a bustling settlement that would go on to form the beginnings of the modern-day Gulf states.  Once a prosperous trading town, Al Zubarah was abandoned in the 20th century, buried over the years by the sand.  Thus preserved, it is now an example of the trading and pearl-diving tradition in the Persian Gulf, bringing to life the region's position as a conduit for trade during the 18th and 19th centuries.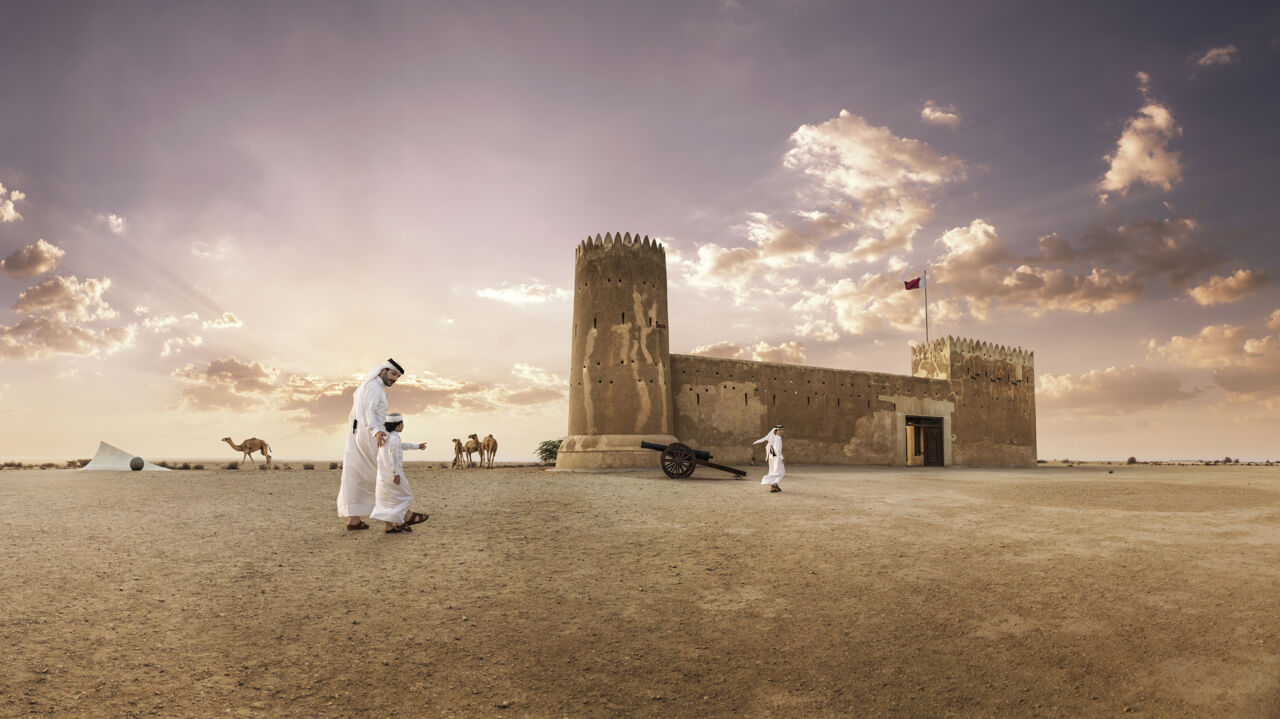 HOW TO GET THERE?
To know more about Al Zubarah Fort
Al Zubara declared UNESCO World Heritage Site in June 2013
Al-Zubarah fort is open daily from 8 A.M. to 6 P.M. and closed on Friday mornings.